Headquartered in Lansing, MI, Neogen Corporation NEOG has been making consistent efforts to expand its Food Safety Division business. In line with this, this food and animal safety products maker recently developed Listeria Right Nowtest system.
This system detects all species ofListeria (including the pathogenic L. monocytogenes) in environmental samples within 60 minutes through their ribosomal RNA (rRNA), without enriching the samples.
NSF International has confirmed that the test system identifies low levels of Listeria in environmental samples faster than other available cultural methods with better sensitivity. The evaluation determined that under the conditions employed in the study, the enrichment-free Listeria Right Now method is as sensitive as the enrichment-based culture reference method. To further validate its accuracy, the test is under review for AOAC Performance Tested certification.
Per management, Listeria contamination in the environment can now be detected and dealt with by implementing quick remedies so that the quality and safety of a food product is not compromised. Listeria Right Now test system helps companies to check the growth of potentially dangerous cultures in their facilities during the testing process and also avoid the storing of test cultures for potential follow-up testing.
With growing awareness worldwide, the food safety testing market is expanding in leaps and bound. According to a report by Markets and Markets, this market is estimated to reach a worth of $17.16 billion by 2021, at a CAGR of 7.4% from 2016. Factors like global increase in foodborne illnesses and implementation of strict food safety regulations are driving the market. We believe the latest development should open up opportunities for Neogen within this space.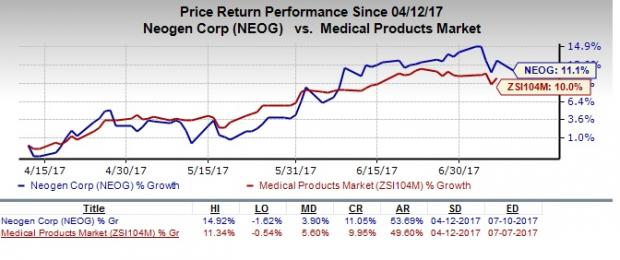 Over the past three months, Neogen has been trading above the Zacks categorized Medical - Products industry. The stock has gained 11.1%, much higher than the industry's increase of 9.9%.
Recent Developments
Neogen recently announced the availability of next generation sequencing services, namely, NeoSeek Genomic Services to ensure food safety for the food industry. Per management, NeoSeek genomic services will help food companies detect bacteria in a sample through a single genomic test.
Also, lately, Neogen has extended its line of food allergen test kits to include a test for sesame. Neogen's new Veratox for Sesame Allergen test provides results in just 30 minutes after extraction. The new test screens samples or provide results in the range of 2.5 to 25 parts per million (ppm), and has been confirmed for use in testing food products.
Zacks Rank & Key Picks
Neogen currently carries a Zacks Rank #3 (Hold).A few better-ranked medical stocks are Mesa Laboratories, Inc. MLAB, Edwards Lifesciences Corporation EW and Align Technology, Inc. ALGN. Notably, Mesa Laboratories and Edwards Lifesciences sport a Zacks Rank #1 (Strong Buy), while Align Technology carries a Zacks Rank #2 (Buy). You can see the complete list of today's Zacks #1 Rank stocks here.
Mesa Laboratories has a positive earnings surprise of 2.84% for the last four quarters. The stock has added roughly 11.6% over the last three months.
Edwards Lifesciences has a long-term expected earnings growth rate of 15.2%. The stock has gained around 25.4% over the last three months.
Align Technology has an expected long-term adjusted earnings growth of almost 24.1%. The stock has added roughly 32.8% over the last three months.
More Stock News: 8 Companies Verge on Apple-Like Run
Did you miss Apple's 9X stock explosion after they launched their iPhone in 2007? Now 2017 looks to be a pivotal year to get in on another emerging technology expected to rock the market. Demand could soar from almost nothing to $42 billion by 2025. Reports suggest it could save 10 million lives per decade which could in turn save $200 billion in U.S. healthcare costs.

A bonus Zacks Special Report names this breakthrough and the 8 best stocks to exploit it. Like Apple in 2007, these companies are already strong and coiling for potential mega-gains. Click to see them right now >>
Want the latest recommendations from Zacks Investment Research? Today, you can download 7 Best Stocks for the Next 30 Days.
Click to get this free report
Mesa Laboratories, Inc. (MLAB): Free Stock Analysis Report
Edwards Lifesciences Corporation (EW): Free Stock Analysis Report
Neogen Corporation (NEOG): Free Stock Analysis Report
Align Technology, Inc. (ALGN): Free Stock Analysis Report
To read this article on Zacks.com click here.
Zacks Investment Research