According to sell-side research houses, the following 30 stocks are expected to have negative earnings growth over the next 3-5 years.
Generally this is a bad thing as it means the business is slowing down, through reduced market share, secular decline, and/or due to idiosyncratic issues.
Nonetheless, they can also make for bet-against-the-crowd opportunities. Run-off in earnings is already factored into the price, so even expectations of stabilization would expect to result in price appreciation.
A few big names are on the list – most notably Gilead (GILD). The New York Times (NYT) also comes up – perhaps why it's referenced as the "failing" New York Times by a popular politician and Twitter personality. CenturyLink (CTL) appears with the changing telecom and media consumption landscape. Italian multinational oil company, Eni (E), also shows up as it wades through a lower oil price environment that could remain that way for the foreseeable future.
1-15: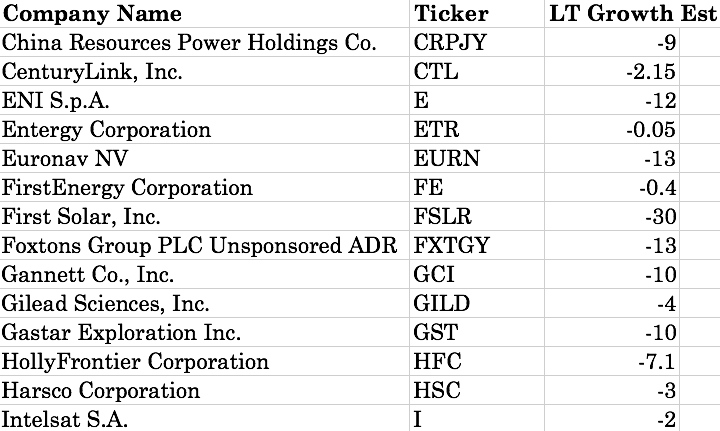 16-30: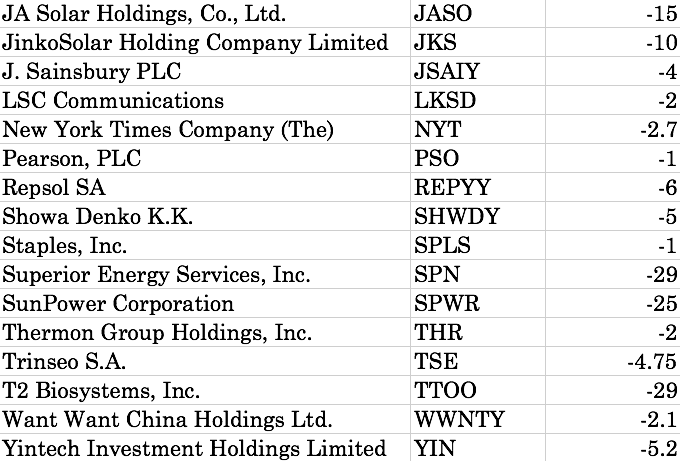 Anybody feel their stock is unfairly maligned being on this list?