Refining margins were lowest for the second quarter since 2010
Third-quarter oil and gas output will fall amid maintenance
BP Plc posted a 45 percent slump in earnings, pointing to a poor set of results from the industry as oil production barely breaks even and profits from refining sputter.
The U.K. company, the first oil major to report second-quarter results, said adjusted profit dropped to $720 million from $1.3 billion a year earlier, missing analyst estimates. Weak refining margins weighed on the downstream result.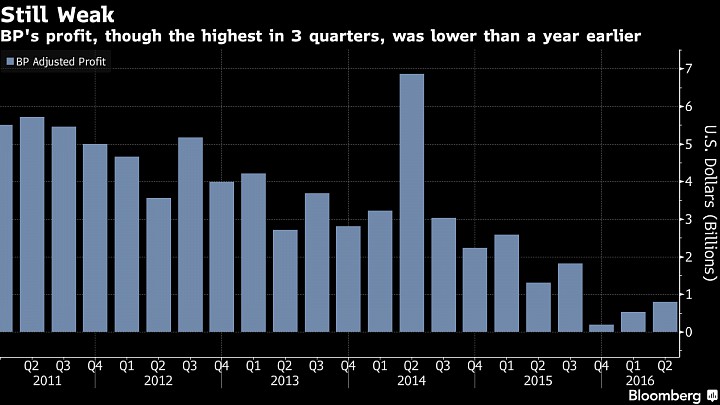 BP's earnings signal trouble for the world's major energy producers, which relied on refining profits last year to weather crude's collapse. While Chief Executive Officer Bob Dudley continues to rein in spending, he faces a difficult road ahead as debts climb and oil's rally fades amid slowing demand growth and returning production from Canada to Nigeria. The company's top global competitors report later this week.
"There will be weakness in the second half of this year because of refineries," said Ahmed Ben Salem, an analyst at Oddo & Cie in Paris. "Even though the companies have been successful in reducing costs, there are still some big challenges ahead for BP and the other oil majors."
For a chart showing the second quarter could be as good as it gets, click here.
BP's shares fell as much as 3.2 percent on Tuesday, the biggest intraday decline in a month. They traded down 2.1 percent at 431.25 pence as of 10:21 a.m. in London.





More