Shares of Vulcan Materials will reach $90 un medium term

2 march 2015
I remain upbeat about the shares of Vulcan Materials (VMC), a US largest producer of construction aggregates, taking into account a rebound of the US construction market, both residential and non-residential. The company saw a 15% jump y-o-y in fourth-quarter shipments, an encouraging sign of rising demand for construction materials. Vulcan's Q4 financials were also strong, better than expected. Revenues were up 11%, and adjusted earnings per share surged more than four times year over year. In 2014, Vulcan generated approximately $1 bn in cash from the sale of assets and the results of operations, reduced debt significantly, paid dividends.
In 2014, Vulcan invested a total of $332 mn in strategic bolt-on acquisitions. Collectively, these acquisitions include 442 mn tons of proven and probable reserves in strategic, high growth markets.
Vulcan expects shipments to rise 8% this year, excluding acquisitions, and prices to tick up 6%. Revenues could climb 12% to $3.4 bn. Adjusted EBITDA is forecast in the range of $775-825 mn, compared with $600 mn in 2014. Vulcan also plans to accelerate the return of capital to shareholders through dividends, or other mechanisms.
Overall, I am encouraged by the company's strong aggregate reserve position, continued profit improvements, divestitures of non-strategic operations and significant debt reduction. Expectations of stronger aggregates volume and pricing growth in 2015 support our bullish stance.
With target price of USD 90, Vulcan's shares, I believe, are worth considering for medium-term investment.
<!== INSTRUMENT %% %1440% ==!>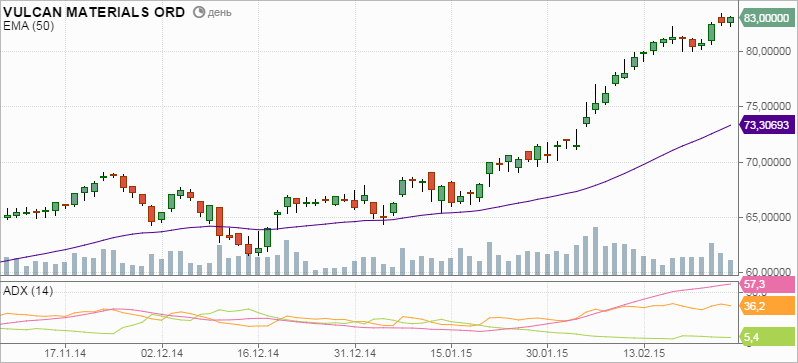 Voting is over
Waiting for


the right answer