AUS employment data came in better than expected today as we begin the 5/8 global trading session.
Employment Change (Apr): 14.2K
Forecast: 7.5K
March: 21.9K (revised up from 18.1K)
Unemployment Rate (Apr): 5.8%
Forecast: 5.9%
March: 5.8%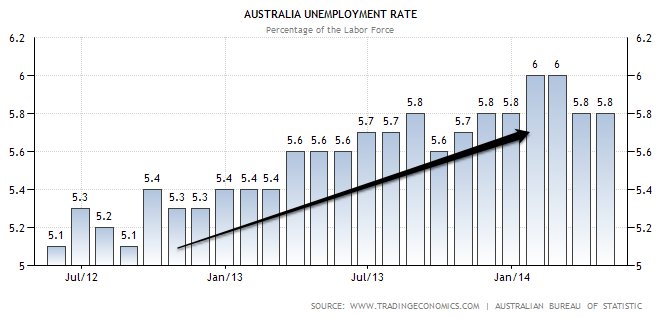 (Source: tradingeconomics.com)
The labor force added fewer jobs than March, but was higher than economists expected. March's reading was also revised up. The unemployment rate remained at 5.8%. As the historic chart shows, the unemployment rate has been in an uptrend the last couple of years, peaking at 6%. The fact the it stabilized at 5.8% in March and April is welcoming, but another month of even lower unemployment rate might be needed to significantly boost the AUD.
Still, AUD/USD for example has been bullish through 2014. April consolidating in April, it looks ready to revive the uptrend in May. I just noted that a break above 0.95 should open up that bullish continuation at least one in the intra-session time-frame:
AUD/USD Looks Ready for an Intra-session Rally
This employment data should help AUD/USD revisit the 2014-high around 0.9460.

(audusd 1h chart, 5/8)
Before the 2014-high, the 0.9375 resistance up to the 0.94 handle might pose a challenge to the current bullish attempt. 
After this bullish reaction to a positive AU jobs data, failure to extend would reveal a market that is still in consolidation. If the market breaks back below 0.93, we are looking at a sideways to bearish market, instead of a market that is turning bullish after some consolidation action at the end of April.