While it may feel as if the stock market is in a deep slump, the S&P 500 is still within 10% of its all-time high. Perhaps the market environment feels so lousy because many individual stocks are now trading far below their 52-week highs. In fact, more than a quarter of all stocks in the S&P 500 have fallen more than 30% from their peak. And fully 96 of the companies in the index are now trading more than 40% below the 52-week high.
I've spent the last week researching this group of laggards. Many -- if not most -- of them may stay stuck in a rut for some time to come, thanks to growth headwinds of still-rich valuations. Yet a handful of these losing stocks are clearly oversold, and poised for a sharp rebound in coming quarters. These are the three best opportunities I've found.
Kohl's (NYSE: KSS)
Earlier this year, shares of this department store retailer were surging as management laid out plans to pursue more bold fashions for the back-to-school and holiday seasons. A period of subsequent tepid quarters have quashed investor enthusiasm, leading shares to fall sharply.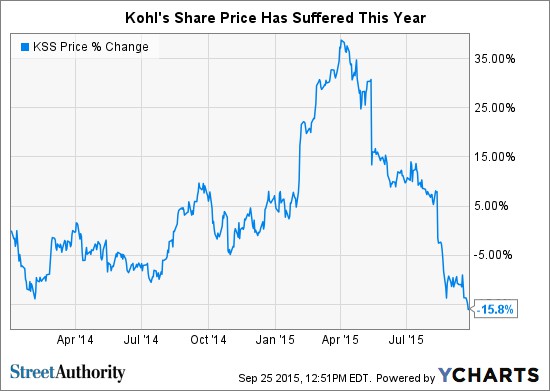 To be sure, fiscal (January) 2016 will turn out to be a transitional year, as per share profits are likely to barely budge from fiscal 2015 levels. While management will need to deliver more impressive results in coming quarters, they should be aided by an increasingly perkier retail spending environment. Employment trends continue to strengthen, and cheap gasoline is putting more cash in consumer's pockets. That sets the stage for a solid holiday spending season, which should aid all retailers.
[More from StreetAuthority.com: Buy This American Icon At A Massive Discount]
Kohl's holds especially strong appeal among retail stocks, simply because its shares are so cheap. Shares trade for around 10 times projected (January) 2017 consensus EPS forecasts. More importantly...
More