The Internet of Things, or IoT, has been a hot buzzword for years now, but it's only getting started. Here are some of the best ways to connect your investing portfolio to the sizzling connected technologies industry. Chances are, you already know most of these companies even if you never thought of them as IoT plays before.
Let's take a hyper-connected look at Cisco Systems (NASDAQ: CSCO), Qualcomm (NASDAQ: QCOM), Impinj (NASDAQ: PI), Amazon.com (NASDAQ: AMZN), and Solar e dge Technologies (NASDAQ: SEDG) -- just as an appetizer.
| Company | IoT Specialty | Market Cap |
| --- | --- | --- |
| Amazon | Back-end data analysis platforms | $478 billion |
| Cisco Systems | Network infrastructure | $156 billion |
| Qualcomm | Networking chips | $83 billion |
| Impinj | RFID sensors and systems | $1.1 billion |
| Solaredge | Connected devices | $0.9 billion |
Data source: Yahoo! Finance.
The obvious choices
You already know that the IoT is a game-changer for networking companies like Cisco. The company expects the number of networked devices on our planet to grown much faster than the tally of internet-connected people. By 2021, Cisco predicts 3.5 networked devices per person, up from 2.3 in 2016. We're way ahead of the game in North America, where the networked device ratio stood at 7.7 last year and should reach 12.9 in 2021.
Most of these machines won't directly interact with humans, because they are designed to collect data on their own and send in reports for analysis by bigger and beefier computer servers in a data center somewhere. The bulk of global data traffic is video today, and that will continue for many years to come. But the sheer number of lower-traffic connections required by billions of connected devices will force some big changes to how data networks are designed -- from the internet backbone to the sensor bundles in the field.
Cisco is ready to replace aging network infrastructures with IoT requirements in mind, armed with IPv6 traffic control technologies, 5G wireless connections, and much more. Together, these technologies will enable a much larger number of reliable and secure network connections, and that's a must in order to take the Internet of Things to the next level. For an established leader in the networking industry, that's a huge growth driver over the next decade or so.
By the same token, Amazon stands to win a ton of the back-end business from the data analysis needs of IoT devices. The e-commerce giant's Amazon Web Services, or AWS, was a first mover in cloud computing, and it never took its proverbial foot off the pedal. In the recently reported first quarter of 2017, Amazon collected 10% of its total revenues from AWS but a staggering 89% of the company's operating profits. The Internet of Things is not the whole story there, but AWS is an excellent platform for centralized data collection and analysis. IoT is a natural fit for Amazon's computing services.
If Cisco is a natural leader in IoT network hardware, Qualcomm is the company that connects each device to that larger network. The IoT is not a separate reporting segment for Qualcomm yet, but it's one of management's five chosen areas of growth investment. Since three of the other four -- 5G wireless, automotive computing, and RFID sensors -- arguably dovetail with the IoT, it's fair to say that Qualcomm is leaning into the Internet of Things as hard as it can. The pending buyout of automotive computing leader NXP Semiconductors (NASDAQ: NXPI) is just another $38 billion step in that direction.
The dark horses
Digging a little bit deeper, it's trivially easy to uncover many more companies knee-deep in IoT growth strategies.
Impinj is a veteran and a leader in the radio frequency ID, or RFID, industry. These low-power sensors are used to track physical materials as they go through business processes, generating data streams that can be analyzed and turned into actionable business decisions. About half of Impinj's revenues come from Amazon, where its RFID solutions help the e-tailer track and ship goods from its highly automated warehouses. Other major customers include railroads, food producers, industrial manufacturers, and even hospitals.
From patient records and prescriptions to rail cars and waybills, RFID sensors can organize and automate plenty of real-world processes. That's a part of the Internet of Things, driving Impinj's trailing sales 33% higher year over year as share prices tripled over the same period.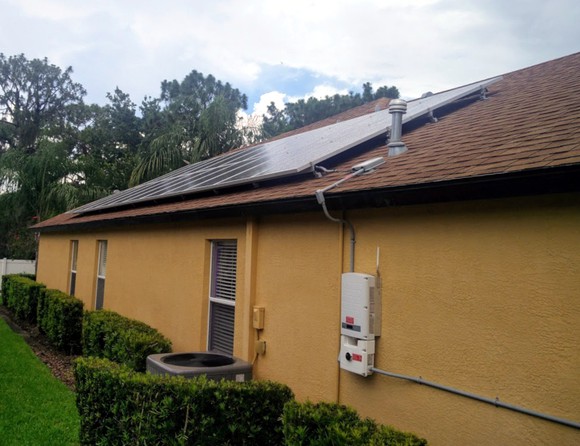 The stubby antenna on the monitoring box connects my solar system to Soleredge's servers. Image source: Author.
Finally, Solar power inverter specialist Solaredge may look like an odd name on this list of IoT investments, but it's actually a classic example of the data collection side of the Internet of Things. The Solaredge monitoring system on the side of my house does more than just manage the power flow from my panels and send it on to the power company's meter. It also collects a ton of data on the power flows, creating charts and detailed system information that I can view in an app on my smartphone.
But first, the data bounces off a Solaredge server somewhere else, connected by a cellular connection from the monitoring box itself. Again, this is the Internet of Thing in action right before our eyes, keeping me informed about the health and performance of the solar system -- panel by panel if needed.
Solaredge is another interesting play on the Internet of Things, albeit with all of the baggage that comes with working in the solar industry. There are many other device plays on the market, of course. Books could be written on the market opportunity that comes with a mature Internet of Things, and I can only bring you a handful of starting points for further research today. Following the links you'll find sprinkled over this article should help you take the next step, and you'll soon be investing in the Internet of Things.
10 stocks we like even better than Amazon
When investing geniuses David and Tom Gardner have a stock tip, it can pay to listen. After all, the newsletter they have run for over a decade, Motley Fool Stock Advisor, has tripled the market.*
David and Tom just revealed what they believe are the 10 best stocks for investors to buy right now...and Amazon wasn't one of them! That's right -- they think these 10 stocks are even better buys.
Click here to learn about these picks!
*Stock Advisor returns as of July 6, 2017.

Anders Bylund owns shares of Amazon. The Motley Fool owns shares of and recommends Amazon. The Motley Fool also owns shares of Qualcomm and recommends Cisco Systems, Impinj, and NXP Semiconductors. The Motley Fool has a disclosure policy.