ISM Services soared to its highest sicne 2005 - printing 60.2, beating expectations by the most on record - with the biggest MoM jump in history. Does that sound in any way realistic? Markit Services PMI printed above its preliminary level at 55.7 for a small bounce after 3 straight months lower. However, more problematic is the plunge in 'hope' as busines outlook tumbles to its lowest since June 2012. As Markeit notes, while the headline may be encouraging, "dig a little deeper and there are causes for concern which could worry policymakers into deferring any tightening of policy."
Utter insanity in ISM data...
Which breaks down as follows...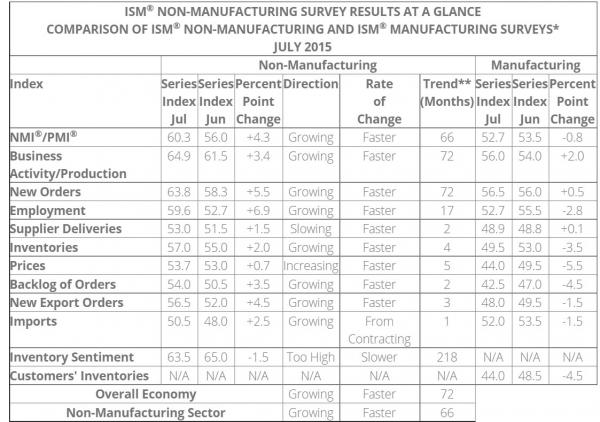 While Services PMI bounced very modestly...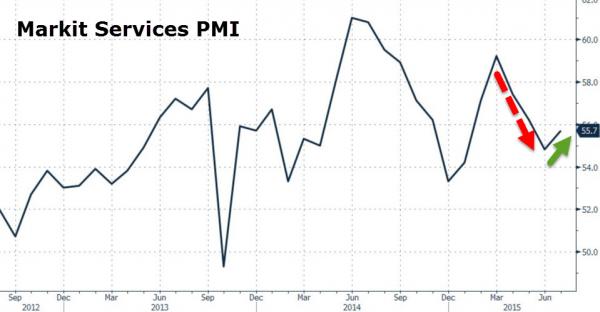 But as Markit notes, it's not all ponies and unicorns...
"At face value, the sustained robust expansion signalled in July augurs well for a rate hike later in the year, possibility as early as September assuming the labour market continues to improve in the meantime.

"However, dig a little deeper and there are causes for concern which could worry policymakers into deferring any tightening of policy.

"Growth has clearly slowed compared to this time last year, and a further drop in service sector companies' optimism about the year ahead to one of the lowest seen over the past five years indicates that firms are expecting growth to slip further in coming months. Hiring could soon wane unless business confidence picks up again soon.

"The survey also illustrates how the strong dollar and falling oil prices add to the argument for holding off with any tightening of policy. Rates of inflation of both firms' input costs and selling prices eased in July amid lower import costs and falling global commodity prices. The strong dollar is also continuing to hurt export performance, dampening economic growth prospects."
*  *  *
So which survey do you believe? Best Services industry in 10 years or lowest services business outlook in 3 years
Charts: Bloomberg