Following countless quarters in which JPM suffered about $30 billion in legal charges, the tempets in Jamie Dimon's legal settlement teapot may be quieting down, with a quarter in which JPM experienced "only" $687 million in pre-tax legal expenses, or about $0.13 in EPS.

As a result of this reduced kickback to the government to continue operating, JPM managed to beat expectations on both the top and bottom line, printing revenues and EPS of $24.8 billion amd $1.45 respectively, fractionally higher than the $24.5 Bn and $1.41 expected.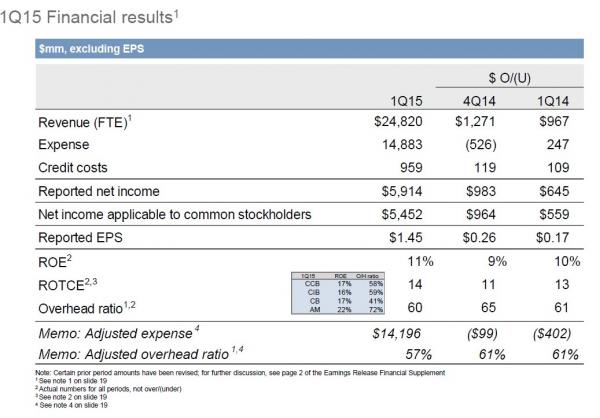 Actually, half of that was accurate: JPM's GAAP revenue of $24.1 billion missed expectations, however its "managed basis" non-GAAP revenue did beat.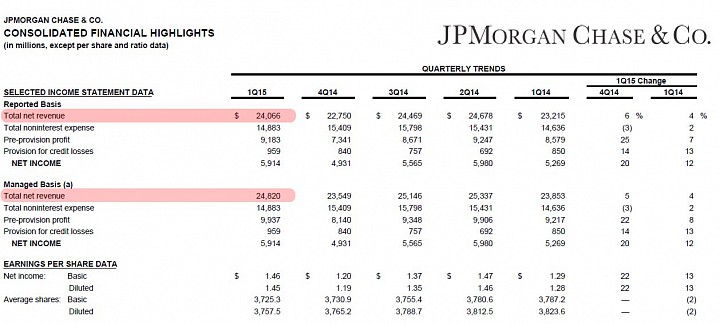 So where did JPM derive its Q1 growth, GAAP, non-GAAP or otherwise?
Well, the core business of consumer and community banking reported Net Revenue of $10.7 billion, down from Q4, but barely up from a year ago, which as a result of expense cuts led to a $238MM increase in Net Income to $2.2 billion.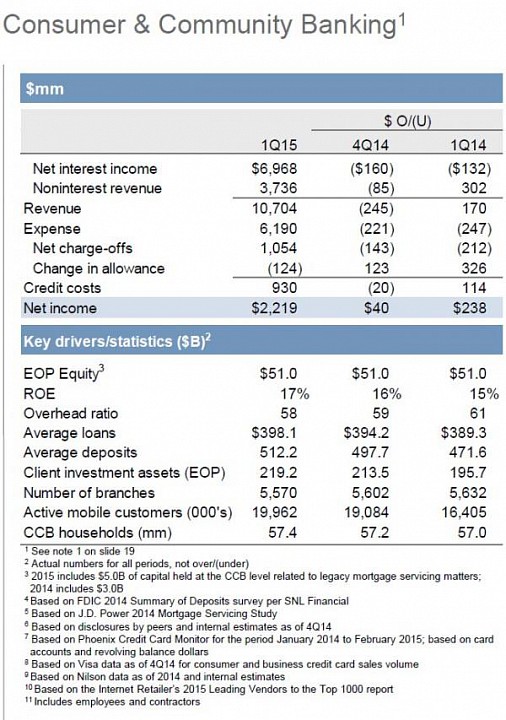 How did JPM grow Net Income here? Simple: it fired some folks:
Total headcount down ~1,900 YTD
Reduced expense by $247mm or 4% YoY – overhead ratio of 58%
Within this group, it is notable that Mortgage Banking still continues to generate some revenue and profit for JPM, or $1.7 billion and $326 million, evven as the group is largely being mothballed. Curiously, JPM did report a 45% increase in mortgage originations in Q1, a total of $24.7 billion. But once again it was the 13% Y/Y drop in expenses to $1.2 billion due to "lower headcount" which indicates what management thinks of this business line.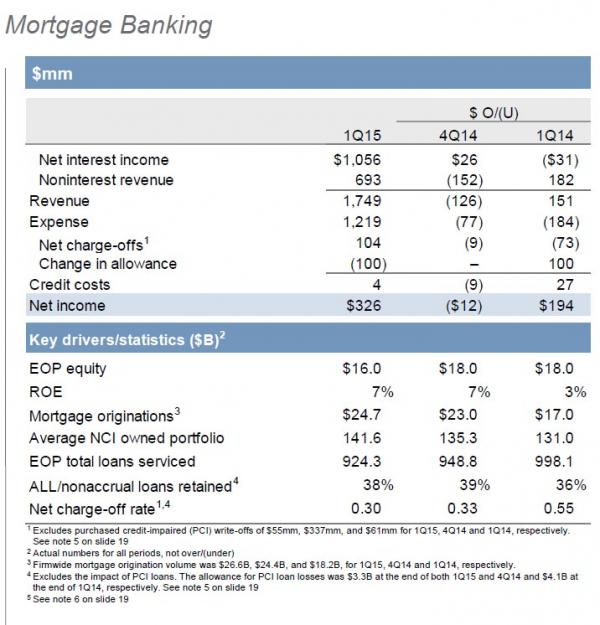 As for sales, trading and i-banking, it appears JPM has managed to succeed where Jefferies previously failed dramatically, and in Q1, generated $4.1 billion in fixed income revenues, up $176mm from a year ago, and with equity markets contributing $1.6 billion, this meants a $2.5 billion in Sales and Trading net inome, up $412 mm from a year ago.
More from JPM:

Markets revenue of $5.7B, up 9% YoY; ex-business simplification, up 20%4, primarily driven by:

Fixed Income Markets of $4.1B, up 5% YoY; ex-business simplification, up 20%4, primarily driven by higher revenues in Currencies & Emerging Markets and Rates
Equity Markets of $1.6B, up 22% YoY, showing strength across derivatives and cash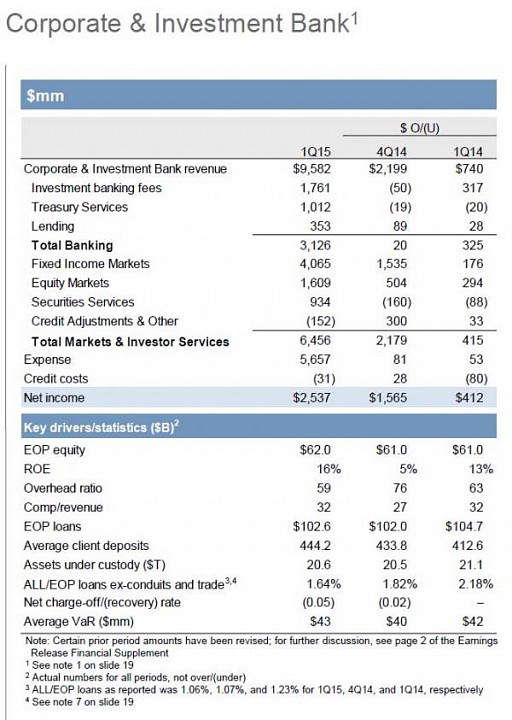 The good news for JPM's traders, unlike the headcount streamlining in other groups, here they are getting a raise:
Expense of $5.7B, up 1% YoY, driven by higher legal expense and performance-based compensation, largely offset by business simplification
Also of note: JPM's extraction of "net income" from loan loss reserves has tapered off, with just $120 million in reserves released and adding to the bottom line, roughly matching the decline in NPLs.

Finally, for those who recall the CIO, they may be surprised to find that CIO and Treasury generated a net loss of $221mm, compared to
a net loss of $205mm in 4Q14. Curiously, as the table below shows, the total CIO investment securities portfolio at the end of the quarter declined by just over $15 billion to $327 billion: it appears that JPM is quietly unwinding the assets in this "hedge" group.

Overall, perhaps the most boring quarter for JPM in a long time. Here is the full investor presentation.