Weight Watchers International, Inc. WTW just released its third quarter 2017 financial results, posting earnings of $0.65 per share and revenues of $323.7 million. Currently, Weight Watchers is a Zacks Rank #3 (Hold) and is up over 12% to $50.20 per share in after-hours trading on Monday.
Weight Watchers:
Beat earnings estimates. The company posted earnings of $0.65 per share, beating the Zacks Consensus Estimate of $0.48 per share.
Beat revenue estimates. The company saw revenue figures of $323.7 million, topping our consensus estimate of $315.8 million.
The New York City-based weight control program's revenues and earnings both not only topped quarterly expectations, but experienced big year-over-year gains.
Weight Watchers posted net income of $44.7 million, up from $34.7 million in the year-ago period. On top of that, the company's total paid weeks rose 20% in Q3. What's more, the total number of Weight Watchers subscribers jumped 18% to 3.4 million.
Looking ahead, Weight Watchers raised it fourth-quarter EPS guidance to between $1.77 and $1.83, up from previous earnings guidance of $1.57 per share to $1.67 per share.
"Weight Watchers delivered strong performance across all major geographies in the third quarter, which resulted in high-quality earnings results," CEO Mindy Grossman said in a statement.
"We are excited about the upcoming winter season and the launch of our new program, which has received highly positive and enthusiastic feedback in consumer trials. We have a tremendous opportunity to continue to evolve Weight Watchers into a global, healthy living brand."
Here's a graph that looks at Weight Watchers' Price, Consensus and EPS Surprise.
Weight Watchers International Inc Price, Consensus and EPS Surprise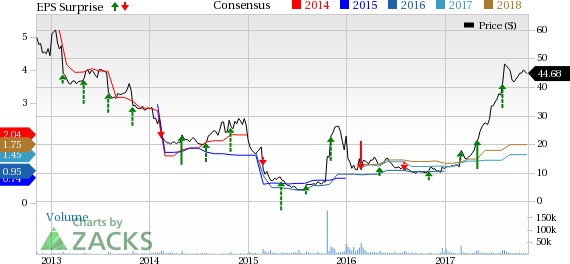 Weight Watchers International Inc Price, Consensus and EPS Surprise | Weight Watchers International Inc Quote
Weight Watchers International, Inc. is the largest provider of weight control programs in the world. The core of their business is weekly meetings, in which they present their scientifically designed program, incorporating group support and education about healthy eating patterns, behavior modification and physical activity.
Check back later for our full analysis on WTW's earnings report!
Wall Street's Next Amazon

Zacks EVP Kevin Matras believes this familiar stock has only just begun its climb to become one of the greatest investments of all time. It's a once-in-a-generation opportunity to invest in pure genius. Click for details >>
Want the latest recommendations from Zacks Investment Research? Today, you can download 7 Best Stocks for the Next 30 Days.
Click to get this free report
Weight Watchers International Inc (WTW): Free Stock Analysis Report
To read this article on Zacks.com click here.
Zacks Investment Research