The economic data this week has jolted the main US index as the ISM manufacturing index came in quite strong, the ADP jobs report and jobless claims seem to suggest employment picked up in November, and even the new housing market came out of its recent slump.

All in all it was a mix of data showing that the US economic recovery continues at a moderate pace and may give more reason for the FOMC to get on with the beginning of "tapering" its bond purchases. Therefore, we are seeing a pullback in equities which are fairly responsive to that speculation.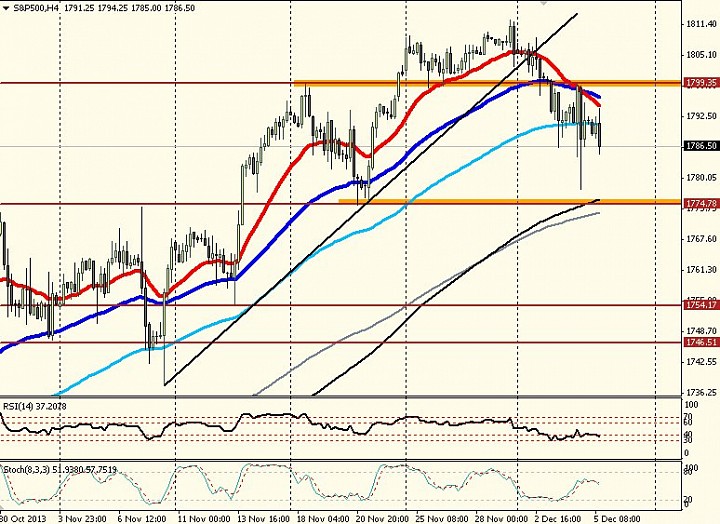 Looking at the S&P in a 4-hour timeframe, we see that the 1800 level was an important psychological barrier, and after trading above it for much of last week, that level flipped from resistance to support to resistance again. Therefore, its a key level to keep in mind going forward.
The next key level is 1775, as this is where we had a previous pivot and also coincides with the 200-EMA and 200-SMA (in gray and black respectively).
My question then is will this current pullback find support there and either move sideways, using 1775 as support and 1800 as resistance, or will it break through 1775 to fall further?
It makes sense that as year-end approaches there is some profit taking and some caution as the US economy looks to be progressing enough that the Fed is ready to pullback some of its stimulus, but at the end of the day, a better economy should help buttress equities so my bias is that this is a pullback and not the start of a sharper correction.