Dr Matt Taylor, the project scientist for the Rosetta mission has a huge tattoo of the Philae probe landing on 67P/Churyumov-Gerasimenko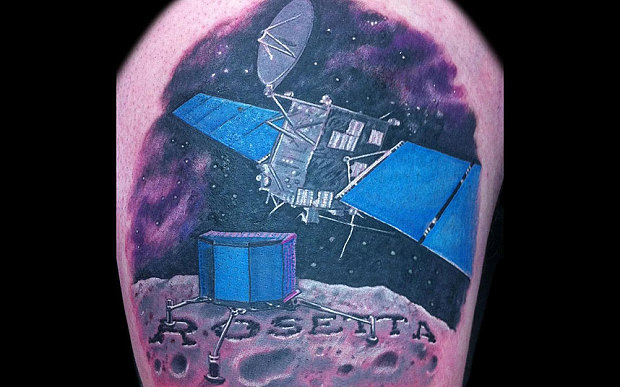 Dr Matt Taylor, Rosetta Project Scientist, has this tattoo of the probe on his leg Photo: @mggtTaylor
The British scientist behind the European Space Agency's mission to land on a comet for the first time has been causing a stir with his unorthodox appearance.
Dr Matt Taylor, Rosetta Project Scientist, was trending on Twitter this morning for his colourful dress sense and array of body art - including a tattoo on his leg of the space probe landing on the comet.
Dr Taylor was reportedly told to cover his tattoos at media events in the past, but his appearance seems only to have increased his popularity.
Twitter users praised Dr Taylor for being "a proper cool scientist" and "definitely not boring" after he appeared on the European Space Agency live stream and BBC Breakfast wearing a multi-coloured shirt emblazoned with illustrations of glamorous women paired with shorts, which showed off the tattoos on his arms and legs.