The Zambia Kwacha, down over 45% year-to-date against the dollar, is the world's worst currency. Last week, in a desperate bid to end the pain, President Edgar Lungu closed all bars and clubs, cancelled all sports and entertainment and demanded his people to pray, on a national day of devotion and fasting, as "hope seems to have deserted the minds of the people.. as anxiety and distress prevail throughout the land." Given the continued drop in both Copper and the Kwacha... god did not answer their prayers.
"God save the kwacha."
That's what Zambian President Edgar Lungu wants his people to pray for on a national day of devotion and fasting on Sunday to reverse a decline in the world's worst currency and fix a litany of problems from plunging copper prices to electricity shortages. As Bloomberg reports,
All bars, nightclubs and entertainment venues have been instructed by the government to shut on the day, while the Football Association of Zambia has canceled domestic games. Church leaders are rallying their members to heed the president's call in a nation where more than 80 percent of the 15 million population are Christian.

 

"These days are like the last days," Gordon Chanda, a driver for a law firm, said as he sipped a Mosi beer at Sylvia's Comfort bar, taking cover from a heat wave that hit the capital, Lusaka, this week. "We need more prayers."

 

Lungu, 58, is seeking divine intervention to help an economy in crisis as government efforts fail to halt the kwacha's 45 percent slump against the dollar this year, the most of 155 currencies tracked by Bloomberg. Zambia's woes began with the slide in copper prices last year and has worsened in 2015 as falling water levels at hydropower plants triggered the most severe electricity shortage on record, hobbling businesses.

 

"Anxiety and distress prevail throughout the land," Lungu said last month when he proclaimed the day of prayer and fasting. "Indeed, hope seems to have deserted the minds of the people. It is almost as if the wise counsel of the learned among us are not a match to the crisis before us."
*  *  *
It hasn't worked!!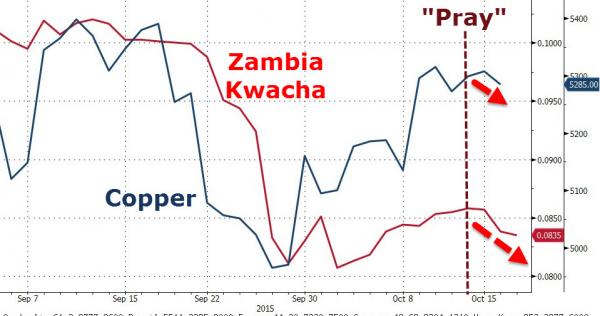 Copper prices have dropped more than 20 percent in the past year, prompting companies such as Glencore Plc to consider shutting mines and fire thousands of workers. Zambia is Africa's second-largest producer of the metal, which accounts for 70 percent of export income. The slump in the industry will curb economic growth to a 17-year low of 3.4 percent in 2015, according to estimates from Barclays Plc.
Zambians have been forced to endure power cuts of as long as 14 hours a day in Lusaka as drought caused water levels to drop at Lake Kariba hydropower plants, which supply the nation with almost half of its electricity. Dry weather has also caused a 22 percent slump in production this year of corn, the staple food, boosting inflation.

 

"The depreciation of the kwacha against the dollar has resulted in prices escalating by 30 percent to 100 percent," Imakando said in a statement on the church's website. "Efforts by government to reverse the situation have not yielded any fruit. The impending increase on fuel will cause yet another price escalation, which will further complicate matters. What we need is divine intervention!"
*   *  *
From faith in the omnipotence of central bankers to faith in God, it seems nothing can save us from the debt-saturated end of days that looms...
"No matter how many prayers you make it doesn't change the fact that you have a fiscal deficit and you're not doing anything to reduce that fiscal deficit," Trevor Simumba, managing director at Sub-Saharan Consulting Group Zambia, a business advisory firm, said by phone from Lusaka. "We know God can do miracles, but He cannot change things that are facts on the ground."