Best Buy (BBY) stocks rallied "after the consumer electronics retailer reported fiscal second-quarter results that beat expectations, including a surprise rise in same-store sales."

Taking a look at the monthly chart, we can see that BBY might be extending the bullish trend started in 2013 before it fell into a couple of years of consolidation. 

BBY Monthly Chart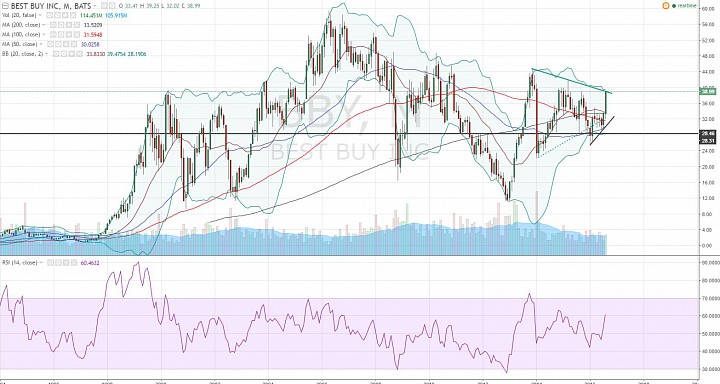 (click to enlarge)

Waiting for a pullback:
- Although the monthly chart looks bullish, there is still a chance that the market will respect the triangle resistance.
- It would be nice to see price pull back towards the 34.80-35 area. 
- I think a bullish market should not pull back below 32. If it does today's bullish reaction would be completely reversed.
- The 2013 high around 44 could be the bullish target.
- With 44 as a target and 31 as a stop, an entry around 35 means a little more than 10% risk, for a potential reward of about 25%.