Summary
As of Wednesday's close, Randgold Resources had the highest estimated potential return over the next several months of any security in our site's daily ranking.
However, a recent article by MacDonald Capital raised the prospect that Randgold is a bubble that could pop over the next few months.
For Randgold longs who share our site's bullishness on the stock but want to limit their risk if MacDonald is proven right, we present two ways of hedging the stock.
Two Ways Of Looking At Randgold Resources
In a recent article ("Randgold: Another Bubble Waiting To Burst?"), Seeking Alpha contributor MacDonald Capital Holdings Ltd. offered a few reasons to be concerned about a correction in Randgold Resources (NASDAQ:GOLD) over the next few months:
Its big run-up year-to-date (GOLD was up almost 43% year-to-date as of Wednesday's close).
The possibility that the Fed will not raise rates further, suggesting "a much better chance that inflation will remain in check." As MacDonald Holdings notes, fears of inflation are generally bullish for gold.
Its P/E ratio is extended, at 46.
The Portfolio Armor website takes a different view of Randgold. More on that below the image of the Year of the Monkey-themed gold bars screen captured from Harrod's Bank's bullion division.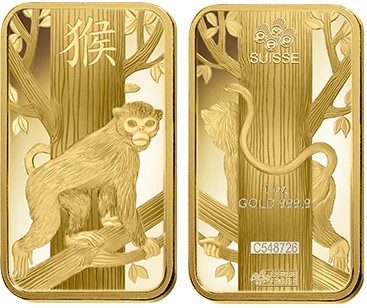 Every trading day, the website applies two screens to avoid bad investments to every stock and exchange-traded product with options traded on it in the U.S. Then, for the securities that pass both tests, it uses price history and option market sentiment to estimate potential returns over the next six months. As of Wednesday's close, Randgold had the highest potential return, at 29%. This security selection method doesn't take into account valuation metrics such as P/E ratios, and it doesn't consider macro issues. We backtested this method over an 11-year period by running it each trading day, from January 2003 until October 2013, and then checking to see what the actual returns of the top-ranked names were six months later. The average potential return estimated by the site over that time frame was 22.4% and the average actual return was 6.84%, 0.3x as much.
Top-Ranked Names Can Still Correct
No security selection method picks winners every time - that's part of the reason the average actual returns in our backtests were so much lower than the estimated potential returns: the average includes top-ranked names that declined significantly over the next six months...
More