Summary
A story broke last night that Micron is looking at potentially acquiring SanDisk.
For a while we have been saying that consolidation and buyouts in the memory sector make sense.
If Micron acquires SanDisk, the resultant company may do $3 in EPS which, at a multiple of 12x, could put Micron stock at $36 - a double from here.
By Scott Tzu
For a while, we have been arguing that the stories of both Micron (NASDAQ:MU) and SanDisk (NASDAQ:SNDK) would eventually turn out all right for shareholders.
This is why we find the news that Micron may be looking to acquire SanDisk as not that big of a surprise. We had argued in the past that both memory makers would be able to buck the pricing downtrend in the sector and emerge growing once again. Here's a great way for both companies to do so.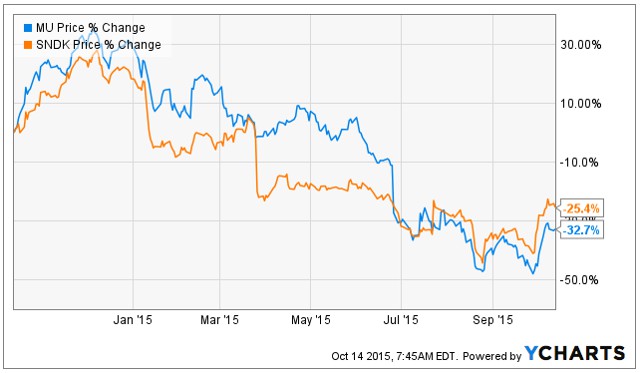 It has been negative pressure on both of these companies stocks nonstop over the course of the last year. Most of this pressure comes from concern in the memory center sector, amid higher supply, lower demand, and increased competition from larger companies like Samsung. Here's the news as it was reported this morning by Reuters,
Chipmaker Micron Technology Inc and hard disk drive maker Western Digital Corp are in talks with memory chip maker SanDisk Corp about a possible acquisition, Bloomberg reported on Tuesday.

SanDisk, valued at about $12.6 billion as of the stock's close on Tuesday, has hired a bank to help with the process, Bloomberg reported, citing sources familiar with the matter.

No decision has been made and the talks may not result in a transaction, Bloomberg reported.

Shares of SanDisk - which makes flash-memory products for cloud computing, data centers, smartphones and laptops - rose 12 percent to $69.20 in extended trading on Tuesday. Micron was up 3 percent and Western Digital under 1 percent.
If you recall...
More