In running risk-weighted analysis of potential impact of exogenous changes in six key variables driving the European economy, a Goldman Sachs Group Inc (NYSE:GS) report notes that the trade-weighted exchange rate and oil price and short-term interest rate changes have, to varying degrees, more impact on expected growth in the region than do changes to fiscal policy and global equity prices.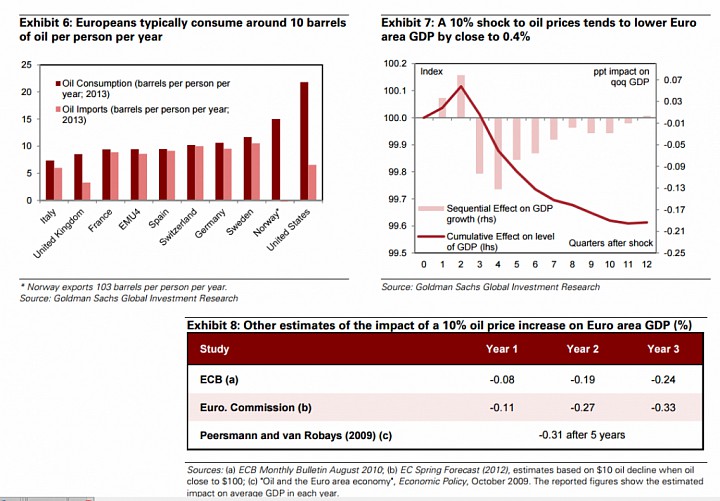 Goldman: Lower oil and Euro currency boosting regional economic prospects
The September 3 report, titled "Shocking European output," notes potential positive impact at present. As oil prices have fallen by nearly half and the Euro has weakened by nearly 10 percent, Goldman's estimates point to these two developments boosting Euro area GDP by close to 2% over time, with the most significant impact occurring in the second half of 2015 and early 2016.
While this is positive, report author Kevin Daly noted the risk of an Asian-led global slowdown has risen and could negatively impact the study region: Germany, France, Italy, Spain the UK, Sweden, Norway and Switzerland.
Goldman: Trade weighted currency relatively significant impact on economic growth, as one might expect
The impact of a region's currency is often the key component in determining trade competitiveness. As a currency falls in value, the products produced in that country become more competitive abroad. Conversely, when a currency value rises it makes that country's exports less competitive in the region. Goldman puts a specific figure on the issue, finding that a 10 percent one-off increase in the Euro trade weighted exchange rate results in real GDP dropping by nearly 0.5 percent. The drop occurs over a period of two to three years, with the most significant impact on sequential growth occurring around one year after the initial shock, all other factors being equal.
The situation could have regional implications. The report noted the "relative openness of Switzerland and Germany would suggest that, all else equal, output...
More