Delta Air Lines, Inc. DAL is scheduled to report second-quarter 2017 results on Jul 13, before the market opens.
The company has reported a positive earnings surprise of 5.48% in the last quarter. Besides, the carrier has an impressive earnings history, beating the Zacks Consensus Estimate in three of the last four quarters with an average beat of 3.01%.
Why a Likely Positive Surprise?
Our proven model shows that Delta is likely to beat earnings this quarter as well, because it has the perfect combination of two key ingredients.
Zacks ESP: Earnings ESP, which represents the difference between the Most Accurate estimate and the Zacks Consensus Estimate, stands at +1.83%. This is because the Most Accurate estimate stands at $1.67, whereas the Zacks Consensus Estimate is pegged lower at $1.64. A favourable Zacks ESP serves as a meaningful, leading indicator for a likely positive earnings surprise.
Zacks Rank: Delta currently sports a Zacks Rank #1 (Strong Buy). Note that the stocks with Zacks Rank #1, 2 (Buy) or 3 (Hold) have a significantly higher chance of beating earnings estimates. Conversely, the Sell-rated stocks (Zacks Rank #4 or 5) should never be considered going into an earnings announcement.
The combination of Delta's Zacks Rank #1 and +1.83% ESP makes us reasonably confident of an earnings beat on Jul 13.
What's Driving the Better-than-Expected Earnings?
Delta is expected to perform well in the second quarter. It has recently received good news with respect to passenger revenue per available seat miles (PRASM). The key metric has increased 2.5% on a year-over-year basis in Jun 2017.
Following the strong PRASM performance, the carrier expects the metric to grow approximately 2.5% in the second quarter, i.e.in the upper end of its previously guided range of 1-3%. The company expects pre-tax margin to be in the band of 18- 19% in the second quarter (previous guidance was between 17-19%).
We are appreciative of the company's efforts to enhance shareholders' wealth through dividends and share buybacks. At a meeting with analysts in May 2017, Delta had announced that its board of directors approved of a new share repurchase program worth $5 billion. Simultaneously, the company has hiked its quarterly dividend by over 50% to 30.5 cents per share.
The carrier's expansion efforts are also encouraging. For Delta has recently partnered with Grupo Aeromexico to boost its cargo operations across the United States and Mexico. It also entered into a joint venture with Korean Air Lines to create a leading trans-Pacific joint venture connecting the U.S. with Asia. The collaboration will offer an expanded network, industry-leading products and services plus an enhanced customer experience to boot.
However, increasing costs are likely to hurt the bottom-line growth in the second quarter of 2017. Cost per Available Seat Mile (including profit sharing) is anticipated to increase in the range of 6-8% in the second quarter, mainly due to higher labor costs.
Delta Air Lines, Inc. Price and EPS Surprise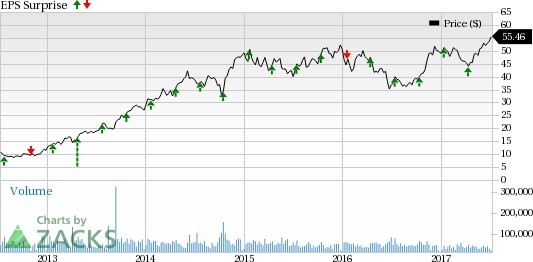 Delta Air Lines, Inc. Price and EPS Surprise | Delta Air Lines, Inc. Quote
Other Stocks to Consider
Investors interested in the broader transportation sector may also consider American Airlines Group, Inc. AAL, Alaska Air Group, Inc. ALK and Canadian National Railway Company CNI, since our model shows that all these stocks possess the right combination of elements to post an earnings beat in their next releases.
American Airlines has an Earnings ESP of +3.51% and a Zacks Rank #1. The company is expected to release second-quarter 2017 results on Jul 28. You can see the complete list of today's Zacks #1 Rank stocks here.
Alaska Air Group has an Earnings ESP of +2.04% and a Zacks Rank #2. The company will reveal second-quarter 2017 financial numbers on Jul 26.
Canadian National Railway has an Earnings ESP of +1.03% and a Zacks Rank #3. The company will release second-quarter 2017 earnings numbers on Jul 25.
Will You Make a Fortune on the Shift to Electric Cars?
Here's another stock idea to consider. Much like petroleum 150 years ago, lithium power may soon shake the world, creating millionaires and reshaping geo-politics. Soon electric vehicles (EVs) may be cheaper than gas guzzlers. Some are already reaching 265 miles on a single charge.

With battery prices plummeting and charging stations set to multiply, one company stands out as the #1 stock to buy according to Zacks research.

It's not the one you think.

See This Ticker Free >>
Want the latest recommendations from Zacks Investment Research? Today, you can download 7 Best Stocks for the Next 30 Days.
Click to get this free report
Delta Air Lines, Inc. (DAL): Free Stock Analysis Report
American Airlines Group, Inc. (AAL): Free Stock Analysis Report
Alaska Air Group, Inc. (ALK): Free Stock Analysis Report
Canadian National Railway Company (CNI): Free Stock Analysis Report
To read this article on Zacks.com click here.
Zacks Investment Research