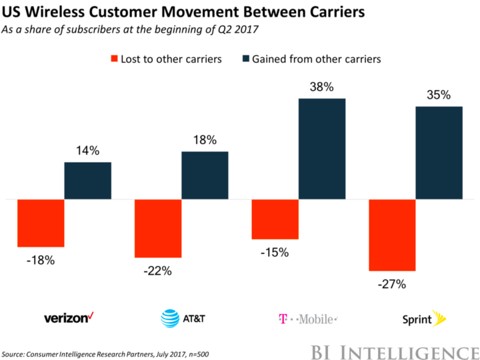 This story was delivered to BI Intelligence Apps and Platforms Briefing subscribers. To learn more and subscribe, please click here.
Verizon's and AT&T's reactive moves to expand unlimited data plans may be stifling their network speeds, according to T-Mobile CTO Neville Ray.
A nosedive in megabits per second (Mbps) for the two companies during Q2 2017, coinciding with the launch of their new unlimited offerings, could suggest that the two networks were strained by the sudden uptick in data consumption.
It was only after the first full quarter since offering an unlimited plan that Verizon plummeted to third place, behind AT&T on network speed. Meanwhile, T-Mobile's network ranks first in download speed and LTE availability in the US, Ray said, referring to Ookla data. In Q2 2017...
More