Emergent BioSolutions Inc.'s EBS shares increased more than 2% after the company announced that it has inked an agreement with GlaxoSmithKline plc GSK to acquire its anthrax monoclonal antibody raxibacumab. Note that raxibacumab was approved of by the FDA in Dec 2012, for the treatment and prophylaxis of inhalational anthrax.
Pursuant to the agreement, GlaxoSmithKline is entitled to receive a $76 million upfront payment. Along with this, the company will also receive up to $20 million in product sale and manufacturing-related milestone payments. All these amounts are expected to become due in 2019.
Emergent's shares have outperformed the Zacks categorized Medical-Biomed/Geneticsindustry in the last six months. Shares of the company have rallied 16.6%, while the industry has registered an increase of 10.3%.

Emergent also plans to assume responsibility to supply the product to the U.S. Strategic National Stockpile (SNS) under a multi-year contract with the Biomedical Advanced Research and Development Authority (BARDA). The contract is valued at approximately $130 million.
The completion of this agreement is subject to customary closing conditions including the antitrust regulatory clearance, expected in 2017. Note that Emergent plans to transfer manufacturing of raxibacumab to its existing facilities in Baltimore in 2020.
We remind the investors that, in Mar 2017, Emergent announced that it has signed another two-year contract with the BARDA, valued at $100 million for the delivery of BioThrax (Anthrax Vaccine Adsorbed) to the strategic national stockpile (SNS).
This contract satisfies BARDA's notice of intent to sole source BioThrax that was issued on December 8, 2016 in addition to the company's $911 million BioThrax procurement contract with the Centers for Disease Control and Prevention (CDC). BioThrax pricing under this BARDA procurement contract is the same as BioThrax pricing under the CDC follow-on contract.
Emergent Biosolutions, Inc. Price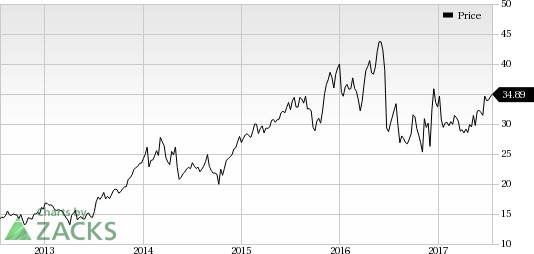 Emergent Biosolutions, Inc. Price | Emergent Biosolutions, Inc. Quote
Zacks Rank & Key Picks
Emergent currently carries a Zacks Rank #3 (Hold). Better-ranked stocks in the healthcare sector are Exelixis, Inc. EXEL and Enzo Biochem, Inc. ENZ, each sporting a Zacks Rank #1 (Strong Buy). You can see the complete list of today's Zacks #1 Rank stocks here.
Exelixis's earnings per share estimates inched up from 53 cents to 55 cents for 2018, over the last 30 days. The company has delivered positive earnings surprises in all the trailing four quarters with an average beat of 512.11%. Exelixis's shares have jumped 46.3% so far this year.
Enzo's loss per share estimates has lowered from 12 cents to 7 cents for 2017 and from 11 cents to 3 cents for 2018 in the last 60 days. The company has delivered positive earnings surprises in all the last four quarters with an average beat of 55.83%. Shares of Enzo have surged 66.9% so far this year.
3 Top Picks to Ride the Hottest Tech Trend
Zacks just released a Special Report to guide you through a space that has already begun to transform our entire economy...
Last year, it was generating $8 billion in global revenues. By 2020, it's predicted to blast through the roof to $47 billion. Famed investor Mark Cuban says it will produce "the world's first trillionaires," but that should still leave plenty of money for those who make the right trades early. Download Report with 3 Top Tech Stocks >>
Want the latest recommendations from Zacks Investment Research? Today, you can download 7 Best Stocks for the Next 30 Days.
Click to get this free report
GlaxoSmithKline PLC (GSK): Free Stock Analysis Report
Enzo Biochem, Inc. (ENZ): Free Stock Analysis Report
Exelixis, Inc. (EXEL): Free Stock Analysis Report
Emergent Biosolutions, Inc. (EBS): Free Stock Analysis Report
To read this article on Zacks.com click here.
Zacks Investment Research