Machinery company Xylem Inc's XYL shares scaled a new 52-week high of $55.68 during its trading session on Jun 30. This improved upon the last 52-week high of $55.45 a day earlier.
In the last three months, shares of the company have yielded 10.05% return, outperforming the gain of 6.34% recorded by the Zacks categorized Machinery General Industrial industry.

On Jun 30, Xylem closed its trading session at $55.43, yielding a year-to-date return of roughly 12.7%. The trading volume for the session was approximately 1.81 million shares. Positive earnings estimate revisions for 2017 and 2018 as well as anticipated 15% earnings growth in the next three to five years indicate the stock's potential for further price appreciation.

Growth Drivers

Market sentiments have been favoring Xylem for quite some time now, especially after the company reported solid first-quarter 2017 results. The company's share price has increased roughly 10.3% since the results release on May 2. Though earnings lagged the Zacks Consensus Estimate, it surpassed the year-ago tally by 5.7%. The results were primarily driven by a solid product portfolio and healthy revenue growth in residential and commercial end markets.

In the quarters ahead, Xylem anticipates benefiting from its organizational restructuring plans. For instance, the combination of Xylem analytics, Sensus, and Visenti are predicted to boost the company's sensing technologies businesses going forward. Also, it is committed toward increasing its exposure in emerging markets as well as focusing on innovation and technology.

For 2017, the company has increased its earnings guidance to a range of $2.23−$2.38 per share from the previously projected range of $2.20−$2.35. Revenues are anticipated to fall in a $4.5−$4.6 billion range, reflecting year-over-year growth of 20−22%. These forecasts assume healthy business in the public utility and health sector, benefits from the Sensus business as well as increasing demand from emerging markets.

We believe that Xylem's solid prospects have led to the positive revisions in earnings estimates. Over the last 60 days, the stock's Zacks Consensus Estimate grew 1.3% to $2.31 for 2017 and 1.2% to $2.65 for 2018. These estimates represent year-over-year growth of 13.7% for 2017 and 14.7% for 2018.
Xylem Inc. Price and Consensus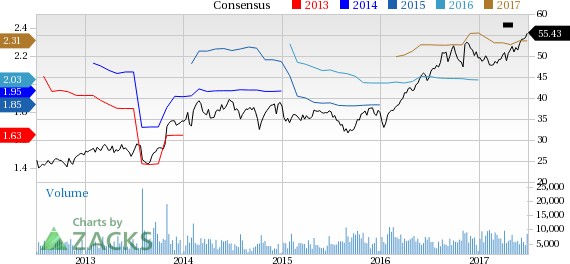 Zacks Rank & Stocks to Consider

With a market capitalization of $9.96 billion, Xylem currently carries a Zacks Rank #3 (Hold). Some better-ranked stocks in the machinery industry include Colfax Corporation CFX, Kadant Inc. KAI and Sun Hydraulics Corporation SNHY. All these stocks sport a Zacks Rank #1 (Strong Buy). You can see the complete list of today's Zacks #1 Rank stocks here.

Colfax's earnings estimates for 2017 and 2018 were revised upward in the last 60 days. Also, the company pulled off an average positive earnings surprise of 9.45% for the last four quarters.

Kadant's average earnings surprise for the last four quarters was a positive 25.48%. Also, earnings expectations for 2017 and 2018 improved over the past 60 days.

Sun Hydraulics' earnings estimates for 2017 and 2018 were revised upward in the last 60 days. Also, the company performed well in the last quarter, delivering positive 5.56% earnings surprise.

5 Trades Could Profit "Big-League" from Trump Policies

If the stocks above spark your interest, wait until you look into companies primed to make substantial gains from Washington's changing course.

Today Zacks reveals 5 tickers that could benefit from new trends like streamlined drug approvals, tariffs, lower taxes, higher interest rates, and spending surges in defense and infrastructure. See these buy recommendations now >>
Want the latest recommendations from Zacks Investment Research? Today, you can download 7 Best Stocks for the Next 30 Days.
Click to get this free report
Sun Hydraulics Corporation (SNHY): Free Stock Analysis Report
Kadant Inc (KAI): Free Stock Analysis Report
Xylem Inc. (XYL): Free Stock Analysis Report
Colfax Corporation (CFX): Free Stock Analysis Report
To read this article on Zacks.com click here.