On Aug 11, we issued an updated research report on Texas-based chemical company, Celanese Corporation CE.

Celanese recorded a year-over-year increase in adjusted earnings and topped earnings estimates in the second-quarter 2017. The company's adjusted earnings of $1.79 per share for the quarter beat the Zacks Consensus Estimate of $1.74.

Celanese reported sales of $1,510 million for the quarter, up roughly 11.8% year over year. Sales also beat the Zacks Consensus Estimate of $1,454 million.

Shares of Celanese have moved up 11.6% in the last three months, significantly outperforming the industry's 0.6% gain.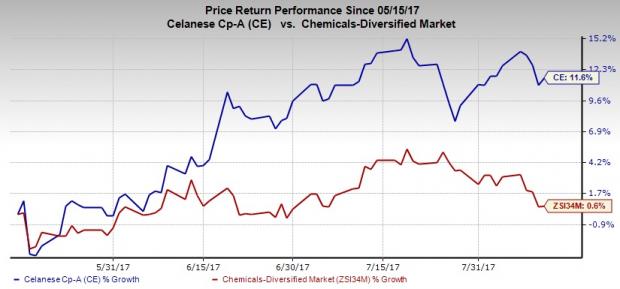 The company's strategic initiatives, including operational cost savings through productivity actions and efficiency enhancement, are expected to provide an impetus to earnings. The company expects its adjusted earnings to rise 9–11% in 2017. Celanese has identified productivity opportunities of $100 million for 2017 through the execution of numerous projects.

Celanese also remains focused on growth through acquisitions and capacity expansion. The purchase of Italy-based SO.F.TER. Group has strengthened Celanese's solutions capability and project pipeline. SO.F.TER. Group's modern manufacturing facilities and product portfolio will also offer opportunities for additional growth, investment and synergies. Moreover, the acquisition of Nilit's nylon compounding unit is in sync with Celanese's plans to become a leading, global nylon compound supplier.

In the last reported quarter, about 547 projects were commercialized, an all-time high, driven by the organic opportunity pipeline and the Nilit and SO.F.TER acquisitions. Celanese also remains focused on expanding production capacity.

In June, Celanese and funds managed by leading investment firm, Blackstone BX entered into a deal to form a joint venture (JV) that will create a global acetate tow supplier, where the former will own 70% of the JV and Blackstone the remaining 30%.

The JV will have an expanded global production footprint including eight fully-owned manufacturing plants and three existing JV sites. The new company, which is expected to generate 2017 annual pro-forma revenues of around $1.3 billion, will be well placed to more efficiently address customers' needs and offer the best of quality and services. The integration of technology and complementary tow assets will also result in synergies, primarily from optimization of supply chain networks and procurement of raw materials, energy, equipment and other services.

However, Celanese faces pricing pressure and expects some near-term volatility in methanol pricing. Low utilization rates are hurting prices of acetate tow. Celanese experienced a year-over-year decline in tow price and volume in the last reported quarter owing to reduced industry utilization rates.
Celanese Corporation Price and Consensus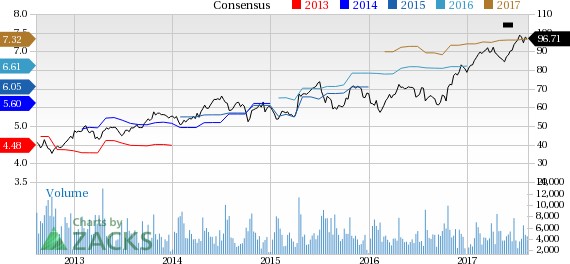 Celanese Corporation Price and Consensus | Celanese Corporation Quote
Celanese currently carries a Zacks Rank #3 (Hold).

Stocks to Consider

Some better-ranked stocks in the basic materials space are Huntsman Corporation HUN and Kronos Worldwide Inc KRO. Both stocks sport a Zacks Rank #1 (Strong Buy). You can see the complete list of today's Zacks Rank #1 stocks here.

Huntsman has expected long-term earnings growth rate of 7%.

Kronos Worldwide has expected long-term earnings growth rate of 5%.

5 Trades Could Profit "Big-League" from Trump Policies

If the stocks above spark your interest, wait until you look into companies primed to make substantial gains from Washington's changing course.

Today Zacks reveals 5 tickers that could benefit from new trends like streamlined drug approvals, tariffs, lower taxes, higher interest rates, and spending surges in defense and infrastructure. See these buy recommendations now >>
Want the latest recommendations from Zacks Investment Research? Today, you can download 7 Best Stocks for the Next 30 Days.
Click to get this free report
Celanese Corporation (CE): Free Stock Analysis Report
Kronos Worldwide Inc (KRO): Free Stock Analysis Report
Huntsman Corporation (HUN): Free Stock Analysis Report
The Blackstone Group L.P. (BX): Free Stock Analysis Report
To read this article on Zacks.com click here.
Zacks Investment Research