Calgary-based energy player Cenovus Energy Inc. CVE recently priced U.S. $2.9 billion of senior notes. The offering is part of the financing plan for the acquisition of assets in Western Canada from ConocoPhillips COP.
The company will make the offering of senior notes in three series. It would price the offering of 4.25% senior notes due 2027 for gross proceeds of $1.2 billion. It will further make an offering of 5.25% and 5.40% senior notes due 2037 and 2047, respectively, for gross proceeds of $700 million and $1 billion, respectively. The notes will be offered and sold only to qualified institutional buyers.
The acquisition deal, set for closure in the second quarter of 2017 includes ConocoPhillips' 50% interest in the FCCL Partnership, the companies' jointly owned oil sands venture operated by Cenovus and most of ConocoPhillips' Deep Basin assets in Alberta and British Columbia.
Cenovus will make a total payment of $13.3 billion for the acquisition out of which around $10.6 billion will be in cash. The company would use the proceeds from the offering to finance a portion of the cash consideration payable for the acquisition.
If the acquisition does not take place the company would use the net proceeds from the offering to fund future growth opportunities like investments or buyouts. The money will also help the company to finance its capital expenditures, repurchase outstanding shares or general corporate purposes.
Cenovus has also completed a billion bought-deal common share financing few days back. A total of 187.5 million common shares were sold at a price of $16.00 per share for gross proceeds of $3.0 billion. The proceeds from this transaction will also be used for financing the cash portion payable for the acquisition.
Zacks Rank and Other Stocks to Consider
Spun off from Encana Corp. ECA in 2009, Cenovus is a large integrated oil company. It produces oil and natural gas and is also involved in the transportation and refining of crude oil.
Cenovus Energy Inc Price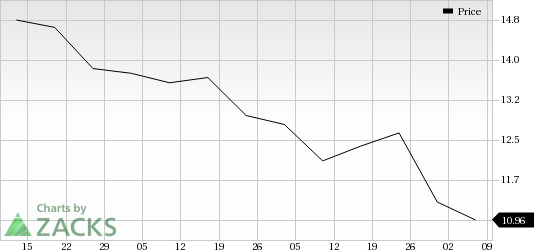 Cenovus, which is under the Zacks categorized Oil and Gas Canadian Integrated industry, currently sports a Zacks Rank #1 (Strong Buy). The company posted a positive average earnings surprise of 74.9% in the trailing four quarters.
Another top stock in the broader industry sporting a Zacks Rank #1 is Antero Resources Corporation AR You can see the complete list of today's Zacks #1 Rank stocks here.
Antero Resources reported positive earnings surprise in each of the preceding four quarters, the average being 239.10%.
Zacks' Hidden Trades
While we share many recommendations and ideas with the public, certain moves are hidden from everyone but selected members of our portfolio services. Would you like to peek behind the curtain today and view them? 
Starting now, for the next month, I invite you to follow all Zacks' private buys and sells in real time from value to momentum...from stocks under $10 to ETF to option movers...from insider trades to companies that are about to report positive earnings surprises (we've called them with 80%+ accuracy). You can even look inside portfolios so exclusive that they are normally closed to new investors. Click here for Zacks' secret trade>>
Want the latest recommendations from Zacks Investment Research? Today, you can download 7 Best Stocks for the Next 30 Days.
Click to get this free report
Encana Corporation (ECA): Free Stock Analysis Report
Cenovus Energy Inc (CVE): Free Stock Analysis Report
Antero Resources Corporation (AR): Free Stock Analysis Report
ConocoPhillips (COP): Free Stock Analysis Report
To read this article on Zacks.com click here.
Zacks Investment Research