USD/CAD has been retreating since it failed to push above 1.38 earlier in May. In a recent look at USD/CAD, we anticipated a bearish correction towards 1.3410. 

USD/CAD Daily Chart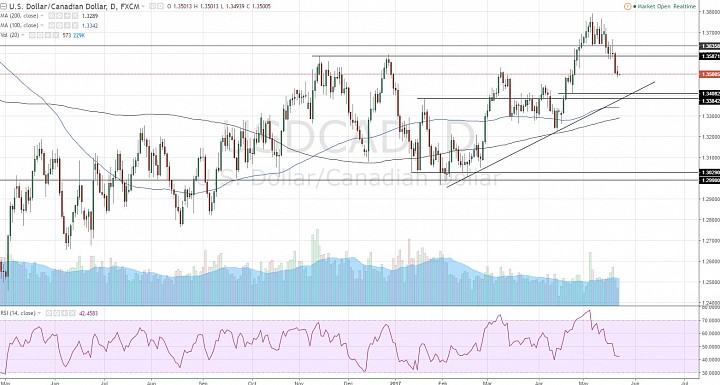 (click to enlarge)

Support:
- If price does approach the 1.3385-1.3410 area, it will be challenged by a 1) support/resistance pivot and 2)a rising trendline.
- Also, the RSI will likely be around 40. If the market is bullish, the RSI should hold and turn back up from around 40. If it clears below 40, it is probably in a sideways market instead of a bullish market.
- For the bullish outlook, an extension to 1.33 should be allowed. If price extends to 1.33 and rebounds, we are still looking at a bullish confirmation since price would be bouncing off the 200-day simple moving average. Below 1.33, we should treat USD/CAD like a sideways market, with the 1.30 area in sight. 
Upside:
- If the market is in consolidation, a bullish outlook should be limited to 1.3580-1.3635 area. 
- But if the market is bullish, the longer-term outlook is the high just under 1.38, and then the 1.40 handle.