This has been a rough week for shares of Tesla's stocks (TSLA). The auto tech/manufacturing company lost its crown as the most valuable car maker after losing $12 billion in stock capitalization in the past week.

According to Forbes, "Shares of the Palo Alto, California-based company dropped 5.6 percent on Thursday, shrinking Tesla's market capitalization to $50.7 billion, down from $62.99 billion less than two weeks earlier. That put Tesla behind General Motors, which had a $52.65 billion valuation on Thursday, though still ahead of Ford at $44.64 billion."

What's been the problem? According to a seeking alpha analyst, "Between another essential guide down of the Model 3 forecast for 2017 and a bad miss on Q2 deliveries, shares continued their pullback from all-time highs..."
Let's take a look at the chart:
TSLA Daily Chart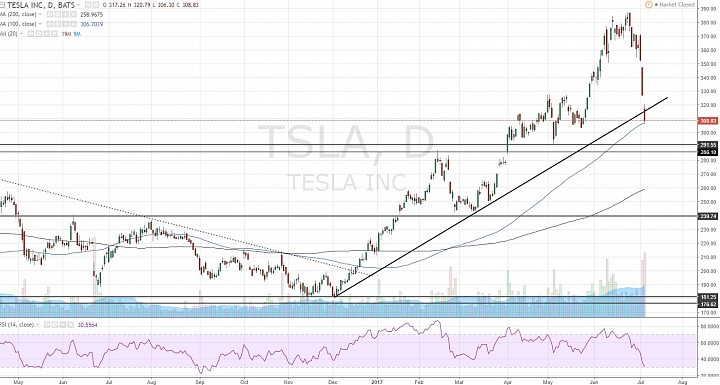 (click to enlarge)

Falling Knife:
- As we can see the extremely sharp decline has brought price back closer to 300 after TSLA marked a historic high of almost 387.
- This decline, as strong as it has been, does not necessarily signal a bearish market.
- To me, it is a fast turn into consolidation/correction mode, which will indeed have a bearish component to it, but I think the downside is going to be limited.
Support:
- I would monitor for support in the 285-292 area.
- This was the resistance area of a multi-year consolidation resistance, which could turn into support.
- I think this is a very possible scenario - that price fall below 300, but then starts consolidating around the critical psychological level.
- I think the most aggressive bearish outlook we should have is to 260, where I would expect support.
- For me, for my long-term horizon (a trade expected to run for a year), an ideal entry would be around 260 with a stop around 230 and a target of 360, then 400 (in 2018).
- However, its quite possible the correction won't need to dip back into the previous consolidation range, but find support at the top of this consolidation range.
- Any bullish outlook from these noted support levels should be limited too as TSLA is no longer bullish but in a consolidation/correction mode.
Let's continue to stalk this correction. I think the prevailing bullish trend is still intact. Therefore, I think we should look at this dip as a chance for the market to enter at a better price, but mostly likely won't have the same upside in 2017 as it had in the first half of the year.


TSLA Weekly Chart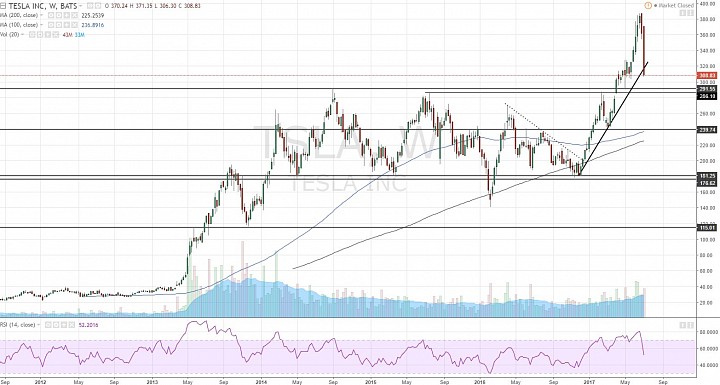 (click to enlarge)