The main headline for today's jobs report is that it crushed expectations, coming in at a whopping 288,000; far higher than expectations of 218,000. Also, last month's figure was revised upward to 203,000 from 192,000.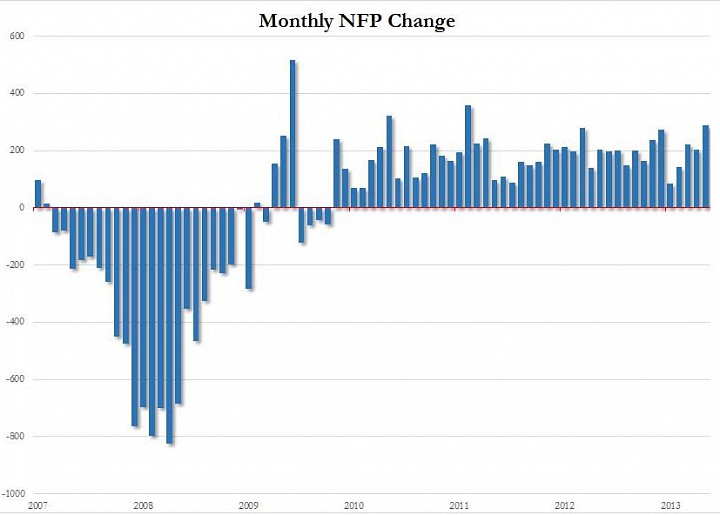 Another popular headline is that the Unemployment Rate dropped to 6.3%, from 6.7%, well below the expected 6.6%. That is the lowest print in more than five years!  This is great news but there are some key underlying statistics that need to be addressed before getting too excited about that number.
First, the labor force participation rate fell to 62.8% from 63.2%; the lowest level since 1978.  The participation rate has been falling for a number of reasons, one being an aging workforce of retiring baby boomers and another being a growing number of young people heading to school.  One Bureau of Labor Statistics official said that the labor force decline was probably "due mostly to fewer people entering the labor force than usual", not more people leaving.  The report shows that the number of employed individuals in the household survey fell by 73,000 and the labor force contracted by 806,000.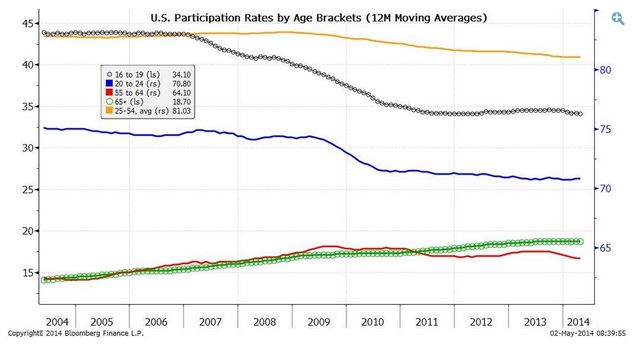 Since the "main" unemployment rate is kind of murky to some economists, many of them look to a different figure the Bureau of Labor Statistics calls U-6.  It is defined as total unemployed, plus all marginally attached workers plus total employed part time for economic reasons, as a percent of all civilian labor force plus all marginally attached workers.  Another way to put it, the U-6 is the unemployed, the underemployed and the discouraged.  This makes the U-6 a more volatile number.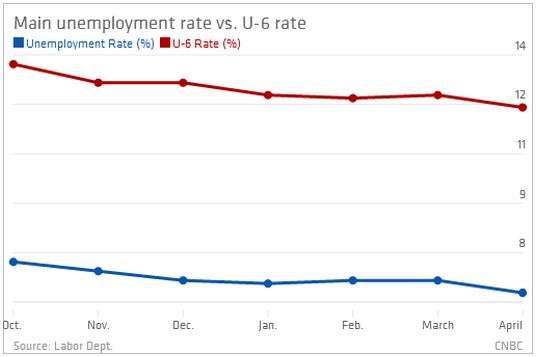 Some other troubling statistics that came out were average hourly earnings month over month were +0.0%, expectations of 0.2%.  Also, average hourly earnings all employees year over year was 1.9%, expectations of 2.1%.  In other words, weekly earnings are growing at an annual rate of 1.9%, so real earnings are not rising. Weekly hours are flat, weekly earnings are flat. There's no earnings momentum so Janet Yellen doesn't have to worry about wage inflation yet.
Here is a link to the Jobs Report and the first section of the report:
Bureau of Labor Statistics News Release

Household Survey Data 
In April, the unemployment rate fell from 6.7 percent to 6.3 percent, and the number of unemployed persons, at 9.8 million, decreased by 733,000. Both measures had shown little movement over the prior 4 months. Over the year, the unemployment rate and the number of unemployed persons declined by 1.2 percentage points and 1.9 million, respectively. (See table A-1.) 
Among the major worker groups, unemployment rates declined in April for adult men (5.9 percent), adult women (5.7 percent), teenagers (19.1 percent), whites (5.3 percent), blacks (11.6 percent), and Hispanics (7.3 percent). The jobless rate for Asians was 5.7 percent (not seasonally adjusted), little changed over the year. (See tables A-1, A-2, and A-3.) 
In April, the number of unemployed reentrants and new entrants declined by 417,000 and 126,000, respectively. (Reentrants are persons who previously worked but were not in the labor force prior to beginning their job search, and new entrants are persons who have never worked.) The number of job losers and persons who completed temporary jobs decreased by 253,000 to 5.2 million. (See table A-11.) 
The number of long-term unemployed (those jobless for 27 weeks or more) declined by 287,000 in April to 3.5 million; these individuals accounted for 35.3 percent of the unemployed. Over the past 12 months, the number of long-term unemployed has decreased by 908,000. (See table A-12.) 
The civilian labor force dropped by 806,000 in April, following an increase of 503,000 in March. The labor force participation rate fell by 0.4 percentage point to 62.8 percent in April. The participation rate has shown no clear trend in recent months and currently is the same as it was this past October. The employment-population ratio showed no change over the month (58.9 percent) and has changed little over the year. (See table A-1.) 
The number of persons employed part time for economic reasons (sometimes referred to as involuntary part-time workers) was little changed at 7.5 million in April. These individuals were working part time because their hours had been cut back or because they were unable to find full-time work. (See table A-8.) 
In April, 2.2 million persons were marginally attached to the labor force, down slightly from a year earlier. (The data are not seasonally adjusted.) These individuals were not in the labor force, wanted and were available for work, and had looked for a job sometime in the prior 12 months. They were not counted as unemployed because they had not searched for work in the 4 weeks preceding the survey. (See table A-16.) 
Among the marginally attached, there were 783,000 discouraged workers in April, little changed from a year earlier. (The data are not seasonally adjusted.) Discouraged workers are persons not currently looking for work because they believe no jobs are available for them. The remaining 1.4 million persons marginally attached to the labor force in April had not searched for work for reasons such as school attendance or family responsibilities. (See table A-16.)