When Hungarian PM Viktor Orban moved to close his country's borders with both Serbia and Croatia, he set off a veritable Balkan border battle. For those who might have missed the rather vivid images, here's a glimpse at what happens if you're a migrant and get the idea that you're going to test Orban's border fence: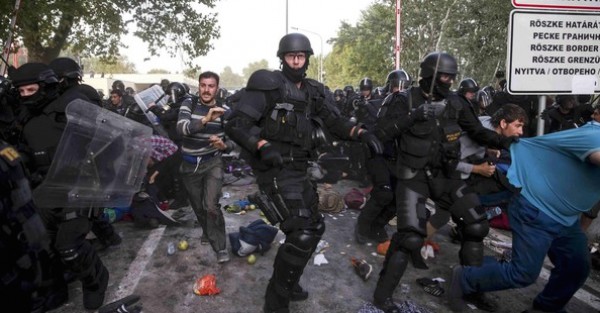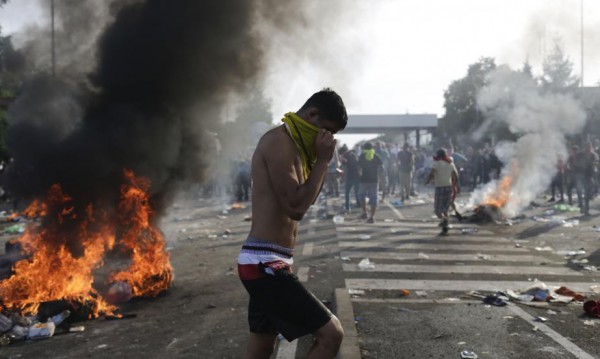 The Balkan route to Germany has of course been inundated with refugees fleeing the war-torn Mid-East and for the governments struggling to cope with the influx, the choice is between allowing their countries to be used freely as migrant superhighways to Germany, or attempting to exercise some manner of border control knowing that any attempt to "manage" the thousands of men, women, and children crossing is largely futile.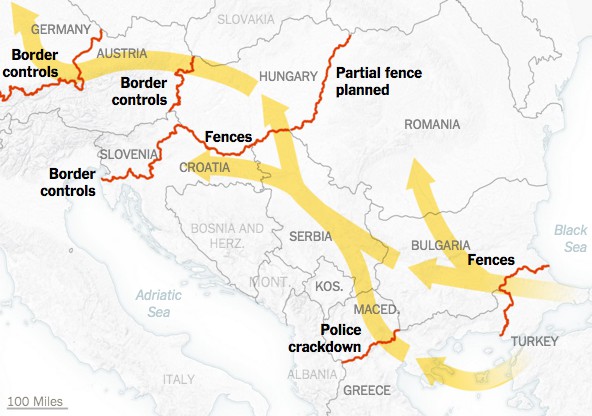 To summarize the story so far in one sentence: Serbia, Croatia, and Slovenia simply don't know what to do now that Hungary has (literally) fenced itself in. Of course there many Germans are beginning to protest Angela Merkel's open door policy which means that even if the refugees do manage to make it north, it's no longer guaranteed they'll receive a warm reception, but that's another story. 
Once Orban's migrant-be-gone fences stranded asylum seekers in Serbia, the flow diverted through Croatia and into Slovenia which has (generally) tried its best to be accommodative but the government can only handle the 6,000-8,000 people coming in from Croatia if an equal number are leaving via Austria and now that things have gotten backed up by tighter controls in Germany, it's possible they'll be far more people coming in than coming out and with winter approaching, that raises the possibility of a humanitarian crisis. Here's The New York Times:
Slovenia is a crucial part of the so-called Balkan route for migrants because its border with Croatia is on the southern frontier of the Schengen area, which allows passport-free travel through much of Europe.

 

More than 171,000 people have entered Slovenia from Croatia since Oct. 16, when Hungary closed its border and redirected the flow of migrants from Africa, the Middle East and Asia to Slovenia, a nation of two million.

 

Austria recently said it could accept only a maximum of 6,000 people a day from Slovenia as Germany, the preferred destination for most migrants, started to slow down the flow of migrants and intensified the screening process.

 

As a result, the Slovenian prime minister, Miro Cerar, said that it was likely that many of the 30,000 migrants who were in his country traveling northward from Greece could be stranded, and that he had limited space and resources to properly accommodate them during winter.

 

"It's a big number," Mr. Cerar said, adding that if Austria and Germany imposed tougher restrictions — or closed their borders entirely — as many as 100,000 people could end up in Slovenia.

 

"If we don't act now, we could have a humanitarian catastrophe on the territory of Slovenia," Mr. Cerar said at a news conference on Tuesday.
And so, in order to avoid this, Slovenia has now built its own razor wire fence on the border with Croatia. Here's Reuters:
Slovenia started erecting a razor wire fence along parts of its border with Croatia amid heavy security on Wednesday, saying it wanted better control over the surge of migrants passing through as they make their way across Europe.

 

 

Army trucks carrying wire fencing arrived in the border village of Veliki Obrez in southeastern Slovenia early on Wednesday. By 0630 ET, about 2 km (1.2 miles) of wire had been erected, a Reuters photographer there said.

 

Slovenia is facing more immediate and pressing logistical concerns. Prime Minister Miro Cerar said on Tuesday that the country, the smallest on the migrant route, does not have the resources to shelter large numbers over the harsh winter if Austria shut its border.

 

Slovenia's border with Croatia will remain open, Cerar said, but the fence will prevent migrants to come into the country outside the border crossing.
Just as Hungary's fences created a nightmare for Serbia, so too will Slovenia's fence for Croatia because now, there are fences to the north and the east. For his part, Croatian Interior Minister Ranko Ostojic says the fence is a waste of time: "No wire can stop people to find their way and it is better to make their way organized." 
Well, as we discussed when Jean Claude-Juncker and Angela Merkel announced their new "plan" to build migrant "holding camps" (and effort at Ostojic's "organization" principle), there's no way to make this "organized":
So Slovenia has for all intents and purposes just put the ball in Croatia's court because it doesn't seem especially likely that Slovenia can handle these flows at official border crossings. 
The question now isn't whether fences can "stop" migrants fleeing to Western Europe, but rather if the backup in the Balkans, the proliferation of razor wire fences, and the coming winter will be enough to make a large percentage of asylum seekers reconsider which route they want to take. As we've noted several times, that sets up the distinct possibility that more could choose a path that takes them through Libya and if you know anything about post-Gaddafi Libya, you know that traversing that territory is a textbook example of the phrase "out of the frying pan and into the fire" if you're fleeing Syria...