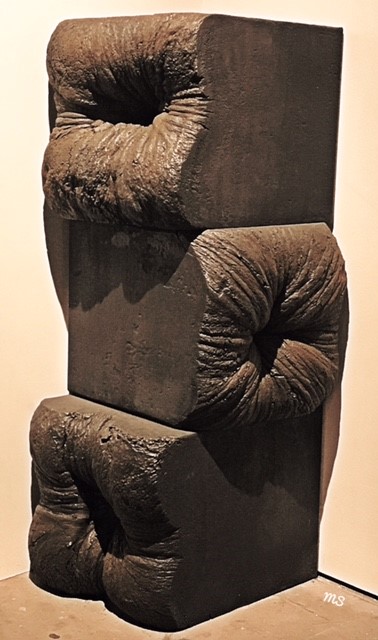 As you can tell, I am a big fan of Tom Joyce's work!
Volatility poked its head out for one day, only to return to complacency.
Yet, is that the end of volatility's King for a Day?
Artistry, as mastered by Mr. Joyce, is when you can sculpt steel into what looks like soft cushions.
I see issues.
Or at least, I see that jumping in to some positions that look comfy, can cause a huge bruise once you realize you dove onto steel.
Clever deception.
While this month has only a few days left, the fate of a few instruments hangs in the balance.
How do you discern pillows from steel?
One key index and three sectors, all in the Modern Family, will tell us a story by the end of next Tuesday. Auspiciously, that is Halloween.
The scary story:
Big Brother Biotechnology (IBB), which already fell a lot further from the 327-level breakdown, could see 300 before it sees 327 again.
Big Brother Biotech's job is to attract speculators into the market. No specs, no liquidity.
The Russell 2000 (IWM), under 147 is not so terrible. But under 144.25, should that occur- I will have no problem calling a top. Or at least, sell the next rally kind of top.
Transportation, (IYT) found cushion at 176. However, should a trickster supplant steel for that pillow, hence IYT breaks that level? Ouch.
Retail (XRT), so far is holding up well--make that relatively well.
No way will XRT hold up if the others tailspin. 40.25 is the 50-DMA and the fine line between recovery and bearish.
The happier story:
IBB clears back over 327. IWM clears 150. IYT clears 180 and XRT, at least, holds over 40.25
One bright spot-although not as influential for the US economy-Alphabet and Amazon-big revenue beats-.
However, until we know whether the market serves us tricks or treats, don't go diving head first.
S&P 500 (SPY) Inside day on key support. Under 255.25 some trouble
Russell 2000 (IWM). The 147-support holding. 144.25 super important and if good, this needs to take out 150
Dow (DIA) Small range inside day-reversal top did not confirm
Nasdaq (QQQ) Inside day. Held 147 but must get back over 148.30 to resume uptrend
KRE (Regional Banks) No reason for negative bias here-like the prospect of higher rates
SMH (Semiconductors) Did not confirm the reversal top-will probably do well after the Intel beat. Still see hurdles at 100.
IYT (Transportation) 176 is so key-but mainly by next Tuesday or at the end of the month-overall, I'm finding this a good time for patience.
IBB (Biotechnology) Another one to wait for-327 must clear or this can see 300.
XRT (Retail) 40.25 is the 50 DMA we want to see her hold
XLU (Utilities) 53.80 now key
GLD (Gold Trust) Who wants gold? I would not get short though
GDX (Gold Miners) I will like better now back over 23.00
XME (S&P Metals and Mining) Long term bullish but short term struggling with the strong dollar
USO (US Oil Fund) Better
TAN (Solar Energy) 22.50 support
TLT (iShares 20+ Year Treasuries) Confirmed distribution phase.
UUP (Dollar Bull) 24.80 resistance level
More