Alibaba Group Holding Ltd. (BABA)'s initial public offering became the biggest ever at $25 billion, after bankers exercised an option to boost the deal size by 15 percent on strong demand, a person familiar with the matter said.
The underwriters exercised a so-called greenshoe option to sell an additional 48 million American depositary shares, said the person, who asked not to be identified as the information is private. Credit Suisse Group AG, Deutsche Bank AG, Goldman Sachs Group Inc., JPMorgan Chase & Co., Morgan Stanley and Citigroup Inc. managed the offering.
Shares of Alibaba soared 38 percent on their Friday trading debut, the biggest first-day jump for an IPO of at least $10 billion, data compiled by Bloomberg show. Its dominance of a booming e-commerce industry in the country of 1.36 billion people attracted interest from money managers including Fidelity Investments, BlackRock Inc. and T. Rowe Price Group Inc., who each asked for at least $1 billion of shares, people familiar with the matter said last week.
"Expectations for this company are sky high," Li Muzhi, a Hong Kong-based analyst at Arete Research Service LLP, said today by phone. "The market seems to be using Alibaba as an proxy for the macroeconomy and consumer economy."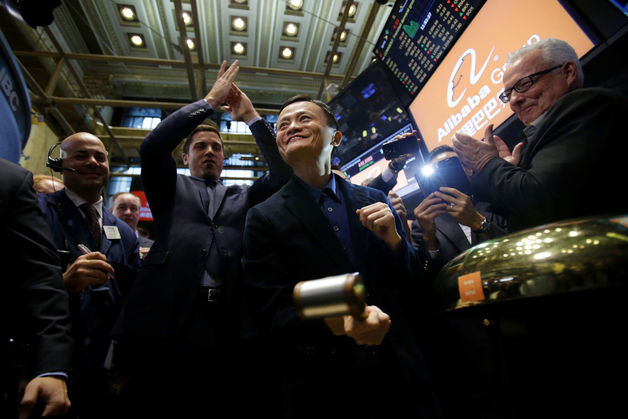 Package Shipments
The number of Chinese Internet users has grown to 632 million, greater than the population of any other country except India, and could exceed 850 million by 2015, government data show. Alibaba, led by billionaire chairman Jack Ma, surpassed Facebook Inc. (FB) by market capitalization from the minute it started trading and closed with a valuation of $231.4 billion, making it larger than Amazon.com Inc. and EBay Inc. combined.
Florence Shih, a Hong Kong-based spokeswoman for Alibaba, didn't immediately return a call seeking comment. The Wall Street Journal reported earlier today the company had exercised the greenshoe option, citing unidentified people.
McKinsey & Co. predicts online commerce in the world's second-largest economy will reach $395 billion next year, triple its 2011 level. Alibaba's retail platforms helped generate 6.1 billion package shipments in the 12 months ended June, accounting for 54 percent of the nation's total, the company said in August.
The Chinese e-commerce company's sale, already the biggest in the U.S., surpassed Agricultural Bank of China Ltd.'s $22.1 billion IPO in 2010 as the world's largest after the greenshoe was exercised, according to data compiled by Bloomberg.
Film Production
Operating profit at Alibaba advanced to $1.1 billion in the three months ended June, or 42 percent more than the combined profit of Amazon and EBay for the period. Revenue rose 46 percent in local currency to the equivalent of $2.54 billion.
Since the start of 2012, Alibaba has announced $16.1 billion of acquisitions as it expands into industries including film production, taxi-booking services and professional soccer, data compiled by Bloomberg show.
In May, Alibaba bought a 10 percent stake in Singapore Post Ltd. (SPOST) to develop its logistics in Southeast Asia. It also invested in Youku Tudou Inc. (YOKU), operator of China's biggest online video sites, and on July 15 announced plans for a streaming service with Lions Gate Entertainment Corp. (LGF)
Investor Crowds
Before the greenshoe option was exercised, Alibaba was already the largest U.S. IPO, ahead of Visa Inc. (V)'s $19.7 billion first-time share sale in 2008, data compiled by Bloomberg show. It was able to break the record with the support of large investors, as nearly half the shares were placed with just 25 funds, people with knowledge of the matter said last week.
Alibaba drew crowds of money managers to meetings held around the world as the company pitched itself this month to prospective shareholders. As many as 800 people turned up to the first event at New York's Waldorf Astoria hotel.
Ma, who started Alibaba from his Hangzhou apartment in 1999 with $60,000, watched his net worth swell to $26.5 billion as the shares rose, according to the Bloomberg Billionaires Index. The 50-year-old former schoolteacher is China's richest man, trailing only Hong Kong property tycoon Li Ka-shing among Asian billionaires.
Simpson Thacher & Bartlett LLP and Sullivan & Cromwell LLP provided legal advice. Rothschild was Alibaba's IPO adviser.
http://www.bloomberg.com/news/2014-09-22/alibaba-s-banks-sai...