European stocks slid for a second day as investors weighed equity valuations and U.K. shares fell on concerns thatScotlandmay vote for independence.Oil companiesslumped afterBrent crudeslipped below $100 a barrel.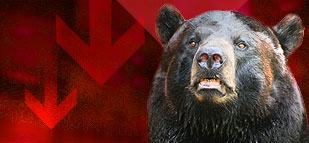 Lenders dragged the FTSE 100 Index down 0.3 percent. Royal Bank of Scotland Group Plc andLloyds (LLOY)Banking Group Plc, the two banks that lend the most in Scotland, lost more than 1 percent each. Oil and gas producers posted the second-biggest loss of the 19 industry groups on the StoxxEurope600 Index.
The Stoxx 600 retreated 0.4 percent to 346.09 at the close of trading, after earlier losing as much as 1 percent. The FTSE 100, which closed near a 14-year high last week, declined as a YouGov Plc poll for the Sunday Times showed a majority of voters in Scotland in favor of breaking from the U.K.
"It's quite possible that we'll see some sort of market fatigue this week," Teis Knuthsen, chief investment officer at Saxo Bank A/S's private-banking unit, said by phone from Hellerup,Denmark. "I don't think people have been taking the vote seriously enough. A vote for independence would be a big upset for U.K. markets. We know very little of what Scotland seriously intends to do."
The Stoxx 600 climbed 1.6 percentlast week, touching a two-month high after theEuropean Central Bankcut all three of its maininterest ratesand said it would start buying securitized debt. The gauge trades at 15.5 times the projected earnings of its members, near its highest since 2009 and up from 14.7 a month ago. Stocks trimmed gains on Sept. 5 amid concern that the measures aren't enough to spur an economic recovery.
Scotland Poll
The YouGov poll showed the share of voters in favor of Scotland breaking from theUnited Kingdomrose to 51 percent less than two weeks before the referendum.
The results sent a gauge of FTSE 100volatilityexpectations up 22 percent. The volume of shares changing hands on the equity gauge was 30 percent greater than the 30-day average at this time of day, data compiled by Bloomberg show.
RBS (RBS)slid 1.3 percent to 342.5 pence and Lloyds declined 2.4 percent to 72.20 pence. Edinburgh-based Standard Life Plc fell 2.4 percent to 406.4 pence.
Associated British Foods Plc slipped 5.2 percent to 2,757 pence, its largest drop since April 2011. Sales at Primark stores open for at least a year rose about 4.5 percent in the 12 months through Sept. 13, the London-based company said in a statement ahead of detailed full-year results. Analysts had predicted growth of 5.2 percent.
Oil Stocks
Oil and gas producers declined as Brent crude fell below $100 a barrel for the first time since June 2013 amid a slowdown of imports intoChina, while Kepler Cheuvreux SA cut the sector to a rating similar to sell, citing the strengthening dollar.
Royal Dutch Shell Plc, Europe's largest oil company, slipped 1.4 percent to 30.40 euros. BG Group Plc dropped 0.8 percent to 1,208, paring earlier losses of as much as 2.4 percent.
Electrolux AB (ELUXB)advanced 5.1 percent to 197.10 kronor -- its highest price since at least 1989 -- after purchasing General Electric Co.'s appliances unit. The world's second-biggest appliance maker is paying $3.3 billion for the division, according to a statement today. It plans to carry out a rights offering for about 25 percent of the price to be paid, upon completion of the deal.
National benchmark indexes slid in 11 of the 18 western-European markets today.France's CAC 40 Index lost 0.3 percent, whileGermany's DAX Index added 0.1 percent.
"Markets may drift down a bit after the boost we had from the ECB," Saxo Bank's Knuthsen said. "We may be short of drivers to take us substantially higher in the short-term. I'm still bullish. Very easy monetary policy, along with a better European economy than most people expect, might give us a boost later in the year."