As a Nvidia (NASDAQ:NVDA) investor I'm obviously very pleased with the stock's recent performance.
NVDA is up 30% YTD while the S&P 500 is struggling to climb to positive territory.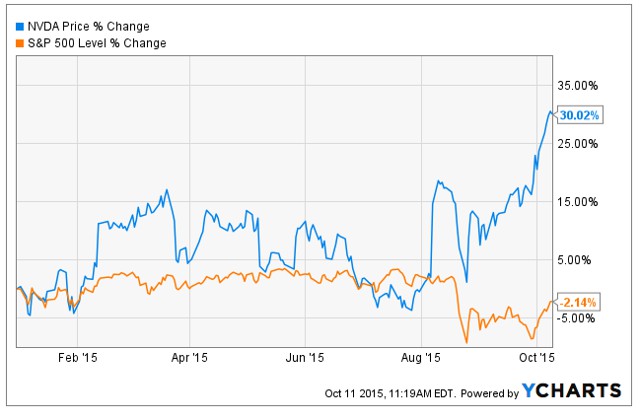 However, as the chart also shows, the majority of NVDA's gain has come over the last two months.
Based on the recent rally, I think the market has gotten ahead of itself by expecting too much too soon of NVDA's growth prospects.
If you're considering an investment in NVDA it could be prudent to wait for a more attractive entry point.
Let's take a closer look.
PE And Forward PE
At the moment NVDA is trading around 28 times past earnings, which is slightly above the industry average.
Although the company isn't trading far above the industry average, investors should be wary of overpaying for a stock during a market cycle where valuations are likely to become increasingly important as alternative investment vehicles become more attractive.
A PE of 28.2 corresponds to an earnings yield of 3.6%, which is very low, in my opinion, because one is not compensated adequately for taking on the additional risk of investing in a tech stock compared to the risk-free interest rate that currently stands at 2% (10-year treasury bond).
But, maybe the current PE is misleading because FY16 will show significant EPS growth?
When considering analysts' estimates of FY16 EPS, it doesn't seem to be...
More