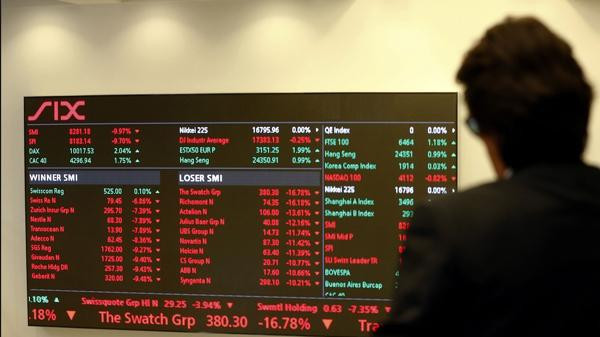 European stocks rallied Friday after investors decided that the SNB decision to terminate the franc link the euro means that the ECB is expected to launch a program to buy government bonds that would support the stock markets in the euro zone.
But Swiss stocks continued their sharp losses in the wake of the SNB's decision on Thursday to cancel the roof of the movements of the franc, which prompted the Swiss currency to rise strongly.
And closed the main index of Swiss shares down about 6%, due to loss of export shares of companies that are expected to be affected by the rise of the franc. The index me a loss of 8.7%, on Thursday and scored earlier in today's session the lowest level in 13 months.
And ended the FTSEurofirst 300 index of top European shares was up 0.99% trading session at 1407.17 points, expanded the gains recorded at the end of the previous session.
Across Europe, closed the British Financial Times index was up 0.79%, while Germany's DAX rose 1.35%, and France's CAC 1.31%.
But Greek stocks fell Friday to close the main index in the Athens Stock Exchange was down 1.79%, while the country is heading towards early elections on January 25, is expected to win the leftist Syriza party, which demanded to renegotiate the bailout program with the European Union and the International Monetary Fund.