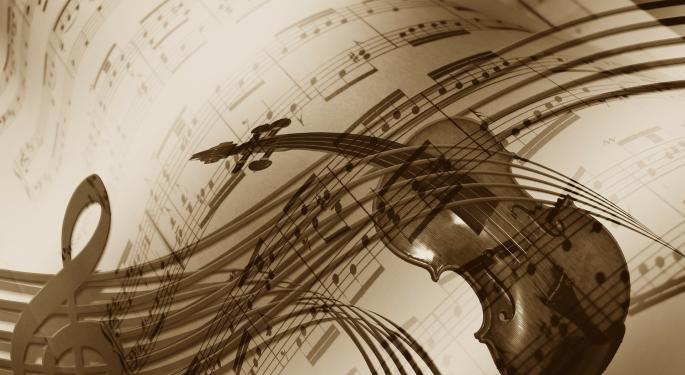 Following underwhelming third-quarter results and disappointing guidance from Pandora Media Inc P 7.96%, Wedbush said the company's new tiers come at a cost. The firm expects the company to bleed into early 2017 as it invests in on-demand music and international expansion. Additionally, the company has also embarked on strategic priorities, the firm noted.
Q3 Review And Q4 View
Analyst Michael Pachter noted that the company reported third-quarter revenues that undershot the guidance, the consensus estimate and his target. The company blamed the shortfall on weakness in digital advertising, with the softness continuing from the second quarter and likely to persist into the fourth quarter, the analyst said. The loss reported on an adjusted basis was consistent with the consensus forecast but was narrower than firm's estimate.
The analyst also noted that the company reduced its fourth-quarter guidance to $362 million to $374 million and the 2016 EBITDA guidance to a loss of $140 million to $128 million. The tempered expectations, according to the analyst, were due to higher costs expected for the next quarter led by upfront royalty fees associated with the recently completed licensing deals and the roll out of Pandora Plus and Pandora Premium.
Pandora Premium: New Date And New Cost Model
While noting that the company will unveil its new on-demand service on December 6, Wedbush also pointed to the company's reference of the cost structure — which is now tied to subscription revenues — with higher costs in the near term. The company hopes to convert a significant portion of its existing ad-free base, paying $4.99 a month, to Pandora Premium costing $9.99 per month.
Updating Estimates
Reflecting the third-quarter results and guidance, Wedbush lowered its 2016 revenue estimate to $1.37 billion from $1.41 billion, EBITDA estimate to a loss of $127 million from a loss of $59 million and loss per share estimate to $0.65 from $0.36. The company also lowered these metrics for 2017.
Promising On-Demand Potential
Wedbush believes the company can convert 2 million Pandora One subscribers to on-demand. Additionally, the company could attract 1–2 million new U.S. on-demand subscribers and 1–2 million international on-demand subscribers in 2017, providing the launch is made with a competitive offering, the firm said.
Maintaining Rating, Price Target
The firm maintains its Outperform rating and a $15 price target on the shares of Pandora.
At last check, Pandora was down 7.51 percent at $11.27.
| Date | Firm | Action | From | To |
| --- | --- | --- | --- | --- |
| Oct 2016 | FBR Capital | Downgrades | Outperform | Market Perform |
| Oct 2016 | Albert Fried | Downgrades | Overweight | Underweight |
| Oct 2016 | Bank of America | Downgrades | Neutral | Underperform |
© 2016 Benzinga.com. Benzinga does not provide investment advice. All rights reserved.