The big news at Aloca (NYSE:AA) remains its pending breakup into an aluminum company and a specialty parts maker. But it's not there yet, and what's going on today at both of those businesses will be the foundation on which they each start their new lives. That's why these five takeaways from the first quarter are so important.
1. It wasn't great, but it wasn't bad
According to Alcoa CFO William Oplinger, "First-quarter 2016 revenue totaled $4.9 billion, down approximately 15% year over year. Organic growth and growth from the recent acquisitions was offset by lower alumina and metal pricing and the impact of divested and closed businesses." The actual earnings number? Zero. That compares with $0.14 a share last year.
Take out one-time items, though, and Alcoa made roughly $0.07 a share. That beat the $0.02 per share analysts had been expecting. But it's still hard to call the company's top- and bottom-line results good. They were, at best, better than expected. This high-level look, however, misses a lot of moving parts.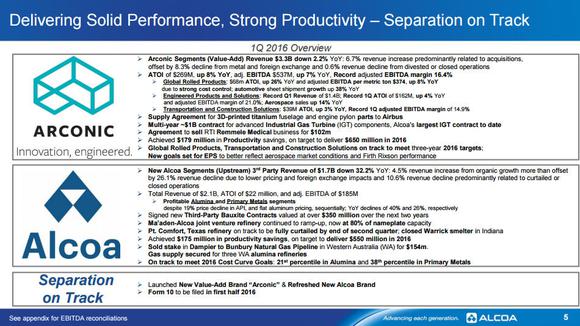 2. On track to bust it up
The biggest moving part, of course, is the company's pending split into an aluminum maker and a specialty parts maker. On that score, CEO Klaus Kleinfeld explained: "We are on course for the second half of 2016. There's a lot of detailed work going into separating a 120-year-old firm." Don't underestimate that second sentence, since getting the breakup right could be the difference between an easy transition and a rough one.
Perhaps more important for investors, however, is that, according to Kleinfeld, "We have for your digestion actually separated out Arconic, as the new value-add company will be called, and new Alcoa [to give] you a better taste for the future [of the] two firms." With the breakup just around the corner, you'll want to pay increasing attention to the individual performances here.
3. How's Arconic doing?
Arconic is the name of...
More