Yesterday's 3 Year auction was mediocre at best. Today's sale of $23 billion in 10Y paper was terrible.
Today's auction, unlike last month's super-strong sale of 10Y paper, was one of the worst auctions in recent history, first printing at a 2.40% yield, tailing the When Issued 2.32% by 1.8 bps, the biggest tail since February's 1.9bps. The yield was higher than April's 2.332% but lower than the 2.68% from March.
The Bid to cover was ugly too, sliding to 2.33 from 2.48 in April, and below the 2.43 6 Month average. It was also the lowest since February. Total bids of $61.2b for $30.6b in notes sold vs $49.7b in bids for $20.2b in notes sold at last auction.
Completing the trifecta of ugliness, Indirect Bidder took down just 60.7%, below last auction's 65.2 and also below the 62.8 6 month average. Directs were in line with April at 5.1%, which left 34.2% to Dealers, the highest Dealer take down of 2017.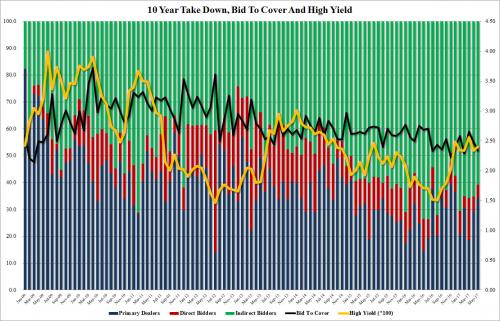 Moments after the ugly auction, TSY futs were knocked to 124-27 session lows; 10Y yields higher by ~0.5bp on the day. And while today's trading session has been rather quiet, futures volumes rose following auction results with ~14k trading over 1-minute period, largest volume spike of the session, onto 124-27 lows