I'm sure if you've read any financial news of late you would have read about China's "Third Plenum of the 18th Party Congress".
If you are not familiar with it, The Economist had a very good article on it recently - "
Changing the economy - The long weekend
". It's a very informative read.
Here's the opening paragraph:
" From Saturday November 9th until the following Tuesday, they will gather in Beijing for the third time since Xi Jinping became head of the party nearly a year ago. The "third plenum", as this meeting will be called, is the new leadership's chance to lay out its stall on economic reform. In the past similar gatherings have shaken the world. The third plenum in 1978, for example, sealed Deng Xiaoping's authority over the party, allowing his vision of "reform and opening up" to prevail. Another third plenum, in 1993, set the stage for a ruthless shake-out of loss-making state-owned enterprises (SOEs)."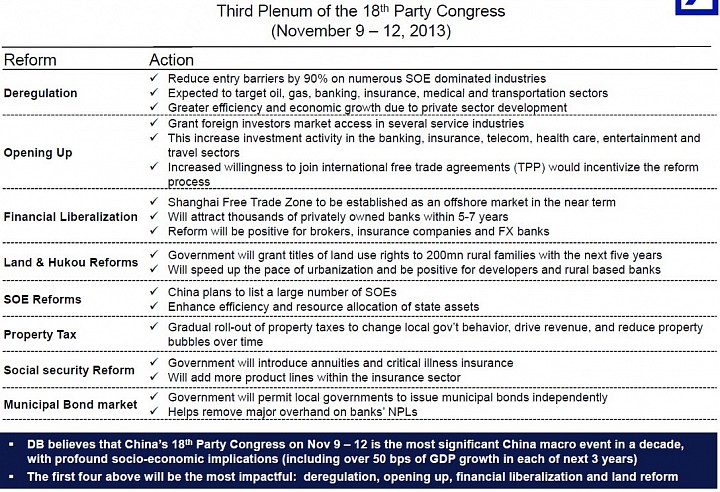 Deutsche Bank meanwhile, has put together a nice graphic full of bulletpoints of the kind of reforms that China's leaders may undertake. So far Chinese officials have been mum on details, so this will be a nice primer for what you may be hearing over the coming weeks and months.