Etsy just released their earnings and the stock soars more than 12% in after-hours trading. Here is what they reported: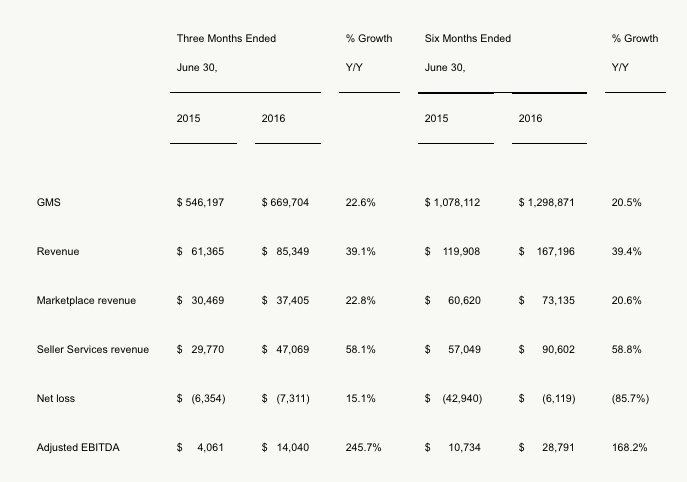 Revenue is up almost 40%, net loss margin is narrowing. I've analyzed the stock ahead of earnings and let's check whether the company improved their unit-economics or not. First of all, my revenue range from this article was $80.04-$86.01MM and it means that the company tops my estimates. It tops the estimates for both marketplace and seller services revenue. As you may saw, I analyze the unit-economics starting from Average revenue per account. As far as Etsy's business depends on both buyers and sellers, let's check an average revenue per buyer and per seller. My assumption here is that marketplace revenue is mostly driven by the buyers, sellers service obviously by sellers. 

As you can see, the company was able to keep the average revenue per buyer at the same level as we predicted it to be. However, the company exceeded my estimates regarding average revenue per seller by 4c - $2.81 vs $2.85. Another important output of unit-economics analysis is the operating profit per one active account (or user). And here Etsy didn't reach any improvement, moreover, the average profit dropped. However, Etsy's management was able to keep it above the zero. So that average operating profit per buyer was around 6c vs 12c in Q1'16 and $1.28 per seller vs $2.25 in Q1'16. 
The company's margin dropped because of one reason - they increased their G&A by 18% on q-o-q basis. That happened because Etsy moved to a new office in Brooklyn. And this office is definitely incredible. I think that significant expenses occurred due to this move, hence I'm pretty sure that in Q3 G&A expenses will go down and we will probably see the margin improvement. 
Quick takeaways:
Etsy kept average operating profit above the zero
ARPA is going up for sellers and stable for buyers
G&A expenses will drop in Q3
It was more than efficient quarter for Etsy and I'm still positive on this stock. We are ahead of a huge upside ride.