From a technical perspective, INTL looks like a strong buy. But timing might be off at at the moment.

INTL FCStone Daily Chart 10/19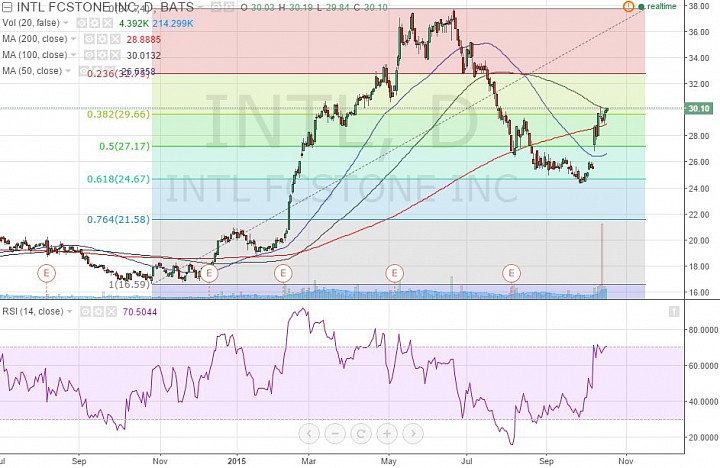 (click to enlarge)
The daily chart shows a market that has been bullish in 2015 after a consolidation period that actually went back several years. The 2015 rally has been sharp, but the correction in April through September has been significant as well. It was a little more than a 61.8% fibonacci retracement. 
Jump to the present. Price bounced off that 61.8% retracement and has climbed back above 38.00 last week. The recent rally in October appears to be signaling a bullish continuation. It is certainly stronger than any of the previous bullish attempts during the bearish correction phase. 

Now, if you agree this is a bull's market, let's consider timing. The RSI has tagged 70. There is always the possibility that this will become a run away market. Fear of missing out is not always a good reason to trigger a trade. I would still wait for price to cool off after the October surge. Then if the RSI gets back to 40, and price back to around 27, I would consider buying.
INTL FCStone Inc. (NASDAQ:INTL) is a diversified, global financial services company. The Company provides financial products and advisory and execution services. The Company provides its services to producers, processors and end-users of traded physical commodities; commercial counterparties; Governmental and non-Governmental organizations, and commercial banks, brokers, institutional investors and investment banks. The Company operates in five segments: Commercial Hedging, Global Payments, Securities, Physical Commodities and Clearing and Execution Services. The Company serves its commercial clients through its team of risk management consultants. Through INTL FCStone Securities Inc., it provides solutions that facilitate cross-border trading. The Physical Commodities segment consists of its physical precious metals trading and physical agricultural, and energy commodity businesses. The Company provides global payment solutions to banks and commercial businesses.