Consumer Price Inflation (CPI) in China came in at 2.5% in May compared to a year ago. Forecast was 2.4%, and April's CPI y/y was 1.8%.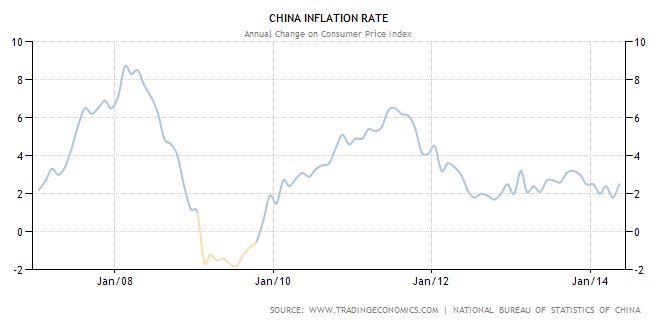 (source: tradingeconomics.com)
A decrease in sow stock has driven up pork price. Food price has been politically sensitive, and food prices rose 4.1% on the year, up from April's 2.3%.Services increased 2.7%, clothing by 2.5%, housing by 2.3%, and recreation, education and culture by 2.1%. 
This rise in consumer inflation bucks any trend of prices lowering in 2014. Although the annual inflation rate was higher through 2013, it remains elevated in 2014 as it holds above 2.0%.
Producer price inflation in May was -1.4%. The forecast was -1.5%, and April's PPI reading was -2.0%.