Janet Yellen: the decision to hike will depend on a wide range of economic and financial indicators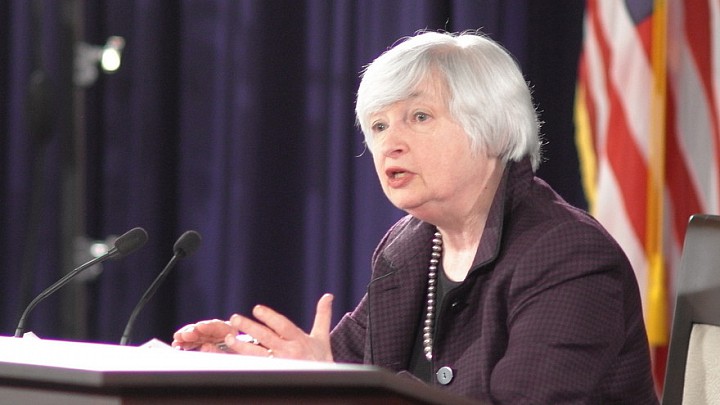 Federal Reserve/Flickr
The Fed kept its key borrowing rate unchanged

U.S. stocks whipsawed throughout the day but closed lower on Thursday after the Federal Reserve left interest rates unchanged, and left investors uncertain about the timing of what would be the first rate hike in nearly a decade.
The main indexes initially surged, but gradually gave up gains as the central bank's Chairwoman Janet Yellen explained the Fed's moves at a news conference.
Fed policy makers voted 9-1 to keep interest rates near zero due to global headwinds that could slow the economy and keep inflation subdued. The central bank's concerns about inflation come even as the outlook for jobs is viewed as improving.
Recent economic indicators pointed to a strengthening labor market, but inflation remains well below the Fed's desired target of 2%, largely due to a drop in energy prices. Yellen described inflation as a transitory problem for the economy.
"And overall the labor market conditions have continued to improve. Inflation, however, has continued to run below our longer-run objective. Partly reflecting declines in energy and import prices," Yellen said at the news event.
The Fed chief expressed growing concerns about sluggish growth in emerging markets, referring to China specifically.
"Clearly the Fed was worried about developments abroad and that was, at first blush, the primary reason why rates were not raised this month," said Dan Greenhaus, chief strategist at BTIG in emailed comments.
During the news provided little clarity whether rates would be raised at the next two meetings, set for October and December.
Now, " a rate hike in October is as up in the air as September was," said David Lafferty, chief market strategist for Natixis Global Asset Management. "The fact that the Fed has downgraded inflation but upgraded growth" has led to a "bit of confusion," Lafferty said.
Some of that confusion was on display as stocks proved volatile after the Fed announcement.
The S&P 500 SPX, -0.26% rallied to 2,020 during Yellen's news conference, but erased gains to close 5.11 points, or 0.3%, lower at 1,990.20. Six of the index's 10 main sectors finished lower. Telecoms got hit, while utilities and health-care stocks led gains.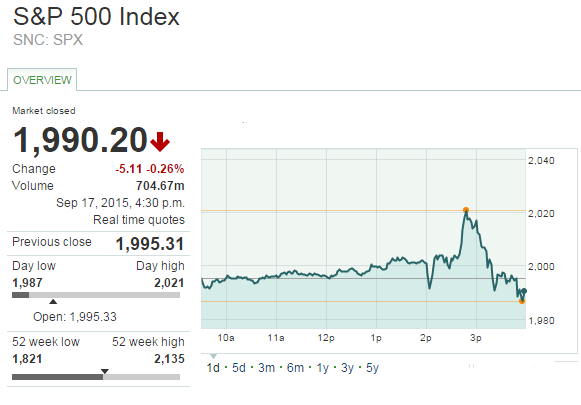 marketwatch