The markets staged a brief dead cat bounce yesterday. We are coming up on the critical 126-day moving average (DMA), which has acted as support for the S&P 500 multiple times since the beginning of 2014.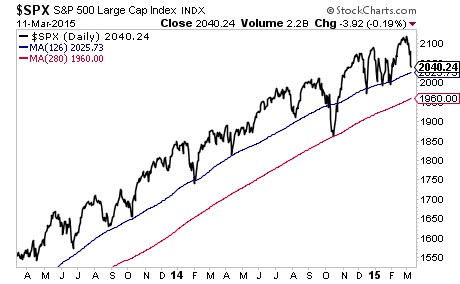 The one exception of course was the October sell-off, which took stocks to their 280-DMA. The reason for that collapse of course was that the global economy was weakening again.
As much as the Federal Reserve and other Central Banks try, they cannot end the business cycle. There are always going to be downturns. That is, by definition, the nature of business.
The fact that the US is now entering a downturn despite the Fed spending over $4 trillion… and running a QE PROGRAM NON-STOP FOR TWO YEARS, is the reason why stocks are highly susceptible to a collapse.
Indeed, if we take out support here (the green line) then the ultimate downside target of 1750 comes into play based on the collapse in October 2014.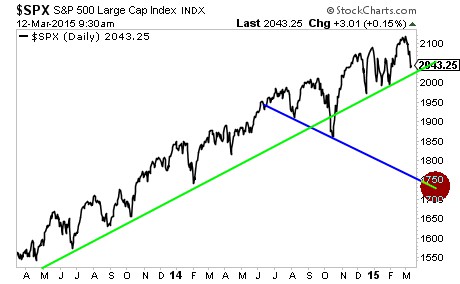 So while stocks may bounce here or hold up a week more, the market is looking HIGHLY dangerous. Indeed, based on the current pace of earnings growth, we should see a VERY serious collapse in the next few months: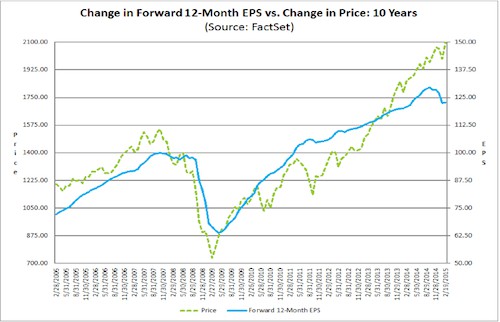 The divergence is worse than that which occurred in 2007 at the last market peak. We all know what followed then.
If you've yet to take action to prepare for the second round of the financial crisis, we offer a FREE investment report Financial Crisis "Round Two" Survival Guide that outlines easy, simple to follow strategies you can use to not only protect your portfolio from a market downturn, but actually produce profits.
You can pick up a FREE copy at:
http://www.phoenixcapitalmarketing.com/roundtwo.html
Best Regards
Phoenix Capital Research