One key theme we've been keen on pushing as the EM meltdown unfolds is that in addition to extremely poor fundamentals, idiosyncratic political risk threatens to derail several of the world's most important emerging economies. 
Take Turkey for instance, where President Recep Tayyip Erdogan's politically motivated crackdown on PKK "terrorists" has plunged the country into civil war ahead of elections next month.
And then there's Malaysia, where voters still want to know how $700 million in 1MDB funds ended up in the private bank accounts of PM Najib Razak. 
But as precarious (and tragically absurd) as the situation in Turkey is, and as angry as many Malaysians most certainly are at the Najib government, the quintessential example of EM political turmoil is Brazil, where President Dilma Rousseff (and her main political rival) are embroiled in scandals that threaten to bring further instability to an already unstable situation.
As we discussed two weeks ago, House speaker Eduardo Cunha is reviewing several impeachment petitions and if he accepts even one, representatives from all parties will analyze it and ultimately put it to a lower house vote. Earlier this month, a Supreme Court justice granted an injunction that delayed such a vote, prompting Cunha to assert his right to exercise what he calls a "constitutional prerogative" to review impeachment requests. 
Of course Cunha has his own set of problems. Allegations of corruption tied to the discovery of Swiss bank accounts have led to calls for his resignation and that, in turn, has Rousseff's "aides fear[ing] the speaker could try to speed up the impeachment process."
On Wednesday, a group of lawyers is expected to file a new impeachment request which repeats allegations of fiscal book cooking. Some say Cunha could end up accepting the lawyers' petition.
Apparently, this particular request is seen as the most credible to date due in part to its authors, one of which is former Justice Minister Miguel Reale Junior. If Cunha accepts, it would set the impeachment process in motion. Here's Bloomberg with more:
A group of high-profile lawyers plans to file a request Wednesday to begin the proceedings, nudging President Dilma Rousseff closer to being ousted after months of will-she or won't-she-be-impeached speculation that has paralyzed Congress, rattled financial markets and deepened an economic slump.

 

If lower house President Eduardo Cunha, a Rousseff rival, accepts the request, it will trigger a months-long process and exacerbate the drama of corruption and political infighting that has highlighted Brazil's fall from emerging-market darling.

 

Weakened by a bribery scandal that started at the state-run oil giant and has helped push her approval ratings to record lows, Rousseff is accused of doctoring the government's 2014 and 2015 fiscal accounts. While the outcome of the impeachment effort is far from clear, economists and investors agree: The political stalemate needs to be resolved -- and quickly.
As we've noted on any number of occasions, the real problem here is uncertainty, as the market has been struggling to understand exactly what's likely to happen in Brazil for months and in this particular case, the political infighting has caused investors to question whether the government can truly get its act together in time to pass reforms aimed at closing a yawning budget gap. The sooner there's a resolution, the better. Back to Bloomberg:
Without stability in the capital, Latin America's biggest country will struggle to shore up its soaring budget deficit, win back investors and rebound from what's projected to be the longest recession since the Great Depression.

 

"A fast resolution would be good, one way or the other, but then it really depends what type of political reality emerges at the end of the process," said Alberto Ramos, chief Latin America economist for Goldman Sachs Group Inc. "Nobody can claim to know what's going to happen next. We just know which questions to ask, but we don't know the answers."

 

"To wait for the impeachment to complete itself -- six to eight months -- you're going to put Brazil through the wringer even worse than it already is," said David Fleischer, professor emeritus of political science at the University of Brasilia. "What needs to happen is to quickly restore private-sector confidence in government."
For those who missed it, here are the 5 steps to impeachment:
And here's a bit more color on the current situation:
Opposition expected to file new impeachment request this morning, adding accusations President Dilma Rousseff doctored fiscal accounts this year as well as in 2014. Lower house president Eduardo Cunha signaled he could accept request directly if his appeals to Supreme Court about proceedings are denied, Folha de S.Paulo and Estado de S.Paulo say. ** Some opposition members fear Cunha is bluffing to create concern within govt: Folha

Cunha could decide on impeachment after November 15: O Globo

Senate started to analyze TCU ruling on Rousseff's 2014 accounts yday: Estado

Senate president Renan Calheiros fails to extend deadline for Rousseff to present defense, likely to give her 45 days: Estado

Informant Fernando Soares, known as Baiano, said former president Luiz Inacio Lula da Silva met w/ friend Jose Carlos Bumlai and president of Sete Brasil regarding contracts for rigs: Estado

Informant said he'll present documents to prove alleged payments to Lula's daughter-in-law; Lula and Bumlai deny accusations, newspaper says

Chief of Staff Jaques Wagner asked Rousseff not to taunt Cunha: Estado

Rousseff asks ministers for more flexibility in 2016 fiscal target so govt can avoid having to revise goal: Valor

Brazil may cut 2016 bolsa familia program budget by 10b reais: G1

Newspapers put 2015 budget deficit between 50 billion reais and 90 billion reais

New target should be announced Thursday or Friday

O Globo newspaper says in op-ed that Cunha needs to step down from lower house presidency

Opposition members also say Cunha should step down
And of course there's some bad economic news, as the worst stagflation in over a decade just keeps getting worse with IPCA-15 inflation rising to 0.66% in October, up from the 0.39% September. Here's Goldman with the summary: 
We expect annual headline inflation to end 2015 at close to 10%. The lagged pass-through from BRL depreciation, pass-through (second-round effects) from the large shock to administered prices to freely determined prices, inertia, and formal and informal indexation mechanisms are also likely to keep inflation under significant pressure in 2016 despite the projected severe contraction of real GDP in 2015 and 2016. Sticky above-target inflation should constrain the capacity of the central bank to cut rates significantly in 2016.
Right, so the story remains the same: Copom can't cut to save the economy because inflation is already high and lagged FX pass-through means it's likely to get worse going forward, and counter-cyclical policy measures to support the flagging BRL are also risky, because they would only serve to exacerbate the economic downturn. Here's a look at the BRL: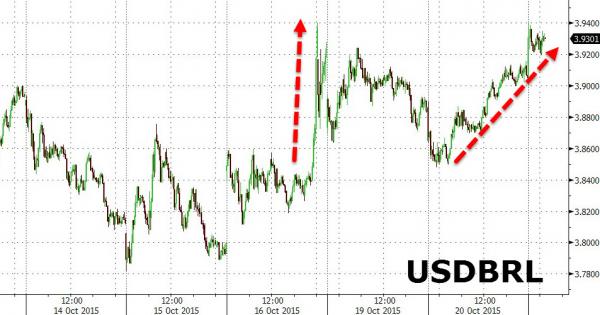 As Goldman told Bloomberg, where we go from here is anyone's guess at the moment and the fact that the lawmaker pushing hardest for Rousseff's impeachment is himself facing calls to step down over alleged corruption speaks volumes about just how convoluted and ultimately hopeless the situation has become. We wonder how long it will be before the next massive street protest.
We'll leave you with some colorful color from Citi in honor of "Back To The Future Day":
In the meantime, in our (un)beloved country: Fiscal? 'Where we`re going, we don`t need fiscal austerity…' that would be the govt. speech regarding the 2015 fiscal figures, with wires mentioning that this year`s primary deficit may surpass the 0.50% of GDP figure in an optimist scenario. If the govt. decides to pay the debt with public banks in order to fix the fiscal maneuvers, the primary deficit could reach 0.80%/1.00%... In my mind, the govt. will recognize that they will reach around 0.70%/0.80% of primary deficit (with the excuse that they are fixing old fiscal skeletons) and try to reach a deal with TCU in order to avoid the 2016 fiscal accounts being rejected as well, fact that would bring the impeachment process Back to the Future.

 

Well, definitely the fiscal scenario looks like the 'Back to the Future' film, but in 1985, when the debt sustainability was a real terror and the fiscal dominance a reality… Fiscal? 'Where we`re going, I can`t see fiscal austerity…' Growth? 'Where we`re going, we can`t see growth…'    

 

Then tell me, future boy, who`s President of Brazil in 2016? Then who`s vice president?

 

The opposition is expected to file a new impeachment request today, but with the current imbroglio around the corruption scandal involving the Lower House Leader (Eduardo Cunha), the impeachment case will likely be prolonged for future days… Political Stability? 'Where we`re going, I can`t see that…'  

 

Low Inflation? 'Where we`re going, I can`t see that…' with the latest CPI print (0.66% mom) reaching the YoY level back to the 9.7%. Definitely the inflationary scenario looks like the 'Back to the Future' film, but in 1985, when the inflation was sky-rocketing.
*  *  *
Because it has become obligatory and because we never disappoint...