Having soared 175 pips in two days, on the back of ECB and PBOC actions, USDJPY is rolling over this morning as a senior adviser to Japanese PM Shinzo Abe tells Reuters that The Bank of Japan "can wait a while" before easing more. This follows another adviser's comments on Friday that "further easing wasn't necessary." With a trail of broken markets (bonds first and now stocks), and broken promises (only 25% of Japanese now believe Abenomics will boost the economy), Abe faces an uphill battle in winning the fight against the "deflationary mindset" that officials have been so adamant they have already won.
The Bank of Japan need not boost its massive monetary stimulus this week as the labor market remains tight, a key economic adviser to Prime Minister Shinzo Abe said on Monday.

 

Koichi Hamada, an emeritus professor of economics at Yale University, also told Reuters that the central bank does not have to rush into further easing but rather can monitor the prospects for an interest rate hike by the United States.

 

"As long as the jobs-to-applicant ratio and unemployment rate show the labor market remains tight, the BOJ can wait for a while," Hamada said in an interview.
And once again the circular logic rolls back to The Fed...
He also said market speculation that the Federal Reserve may raise U.S. rates is taking some pressure off Japan's central bank by keeping the yen soft.

 

The yen has hovered roughly between 119 yen and 121 yen per dollar JPY= since early September, having strengthened to around 116 yen late August as fear of China's economic slowdown rattled market.

 

"As long as expectations for a U.S. interest rate hike keeps the yen weak, there is no need for BOJ Governor Kuroda to take action," Hamada said.
This follows, Etsuro Honda, another adviser to Abe, saying Friday that additional easing wasn't necessary, according to Kyodo News.
The result is a reality check on last week's exuberance...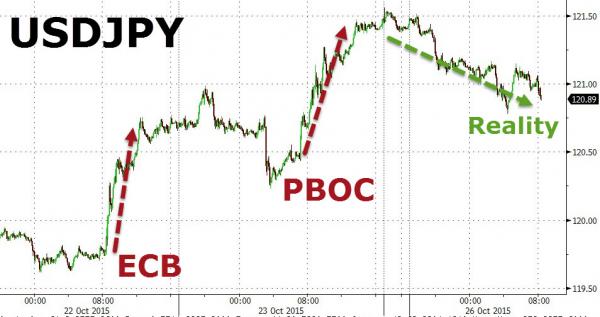 What is more problematic is that the people of Japan are beginning to lose faith (having now seen the cultish fervor of Abenomics disappear into the reality of a quintuple-dip recession) as only 25% believe Abenomics will boot the economy...
Japanese appear to have little faith that Prime Minister Shinzo Abe's policies will improve the economy, with just a quarter of respondents to a weekend Nikkei Inc. poll thinking things will get better.

 

Nearly 60% do not believe Abenomics will help. This lack of confidence appears to be a factor in the cabinet approval rating's decline in the latest poll.
*  *  *
As we concluded previously,
What none of [Japan's previous easing efforts] have amounted to is an actual and sustainable economic advance; NONE, no matter how you count them. In very simple fact, the idea that central banks "need" to keep doing them in continuous fashion is quite convincing that at the very least they don't mean what central bankers think they mean, and perhaps worse that the more they are done and to greater extents the more harm that eventually befalls. It isn't difficult to suggest and even directly observe that Japan's economy has shrunk during the QE age, but that fact isn't applicable to Japan alone (there are sure too many non-adjusted data points that uncomfortably assert the same for even the US). That would seem to at least offer a basis for a "deflationary mindset" no matter the actual economic effects.

 

[Last week's face-ripping rally] is not so much investing or even finance as it is a cult (calling it a religion or even ideology is unjustifiably too charitable). That is the usefulness of "deflationary mindset" not so much as a matter of actual economic pathology but as a built-in, squishy appeal to "we'll get it right next time." And there is always, always a next time which doesn't seem to count for much inside the cult when, in fact, it is everything.