WTI Crude plunged another 3.75% to as low as $74.06 today - the lowest since Sept 2010 and dropping at the fastest rate of collapse since Lehman. Airlines popped and Energy stocks dropped 2.7% (now worst sector of the year) but Small Caps were the worst performing major index of the day (turning first around 1030ET and dropping most in over 3 weeks). The S&P tested back into the red for the week but was VWAP-rescued twice. AAPL once again bid saved the Nasdaq. Treasury yields slid lower all day (down 2-3bps across the complex) but remain up 4-5bps on the week. The USD weakened very marginally (still up 0.25% on the week) led by EUR strength. Gold and silver were flat but copper tumbled back below $300 - its lowest close in a month (near lowest close since Jul 2010). HY Credit diverged bearishly this afternoon as stocks ramped to VWAP. VIX rose for the 3rd day in a row, back over 14. Dow record close, Russell biggest drop in 3 weeks.
It was a weak day in stocks... so what do u think happened to trading volume... But of course, it wouldn't be the US equity market without a late-day panic buying algo surge to VWAP??!!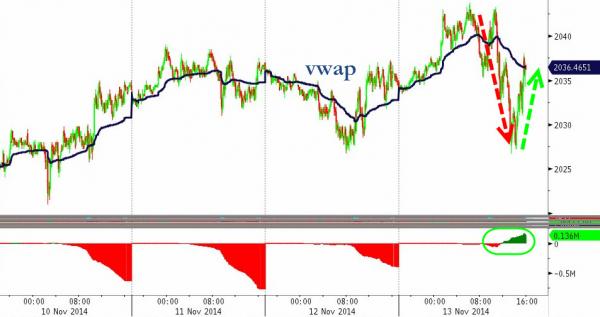 *  *  *
But today was all about Oil...
WTI at over 4 year lows and falling at the fastest pace since Lehman...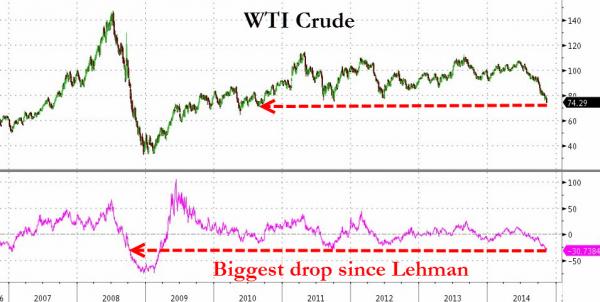 And Lowest seasonal gas price since 2010...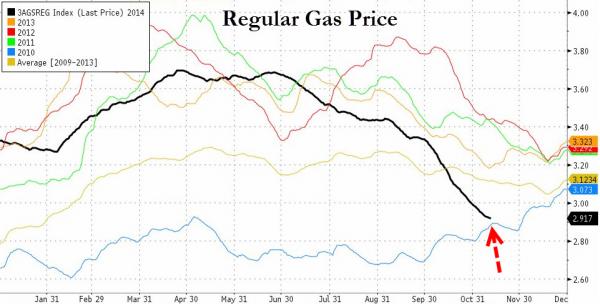 The Energy sector is easily the worst performing sector of the year (and note EVERYTHING else ignoring the dip)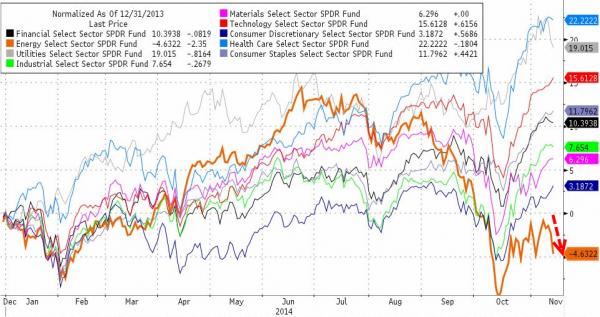 Don't forget - the collapse in oil prices is due to over-supply and NOT (repeat not) due to a collapse in global demand (which of course are merely 2 sides of the same coin)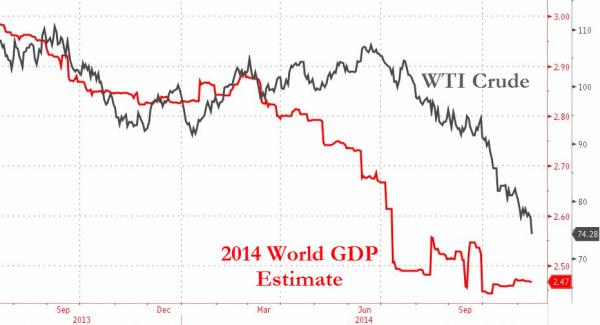 *  *  *
On the day, Small Caps underperformed...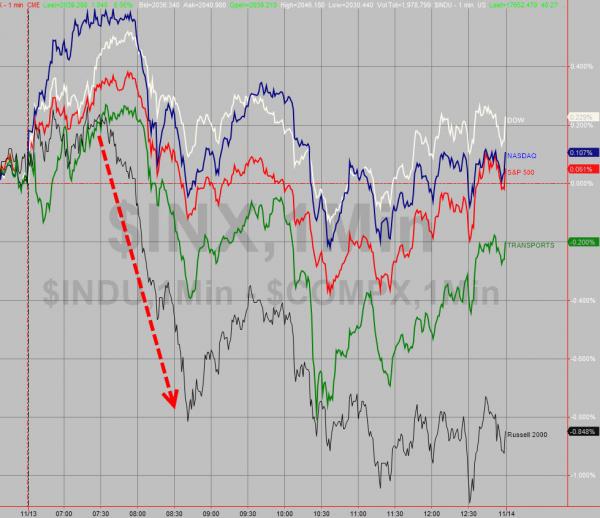 And the S&P tested red for the week intrday... and bounced...
VIX has decoupled for 3 days and it appears stocks are catching down...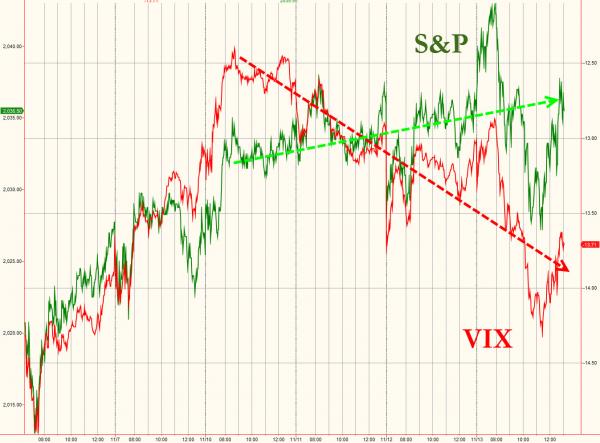 Treasuries rallied today but yields remain 4-5bps higher on the week...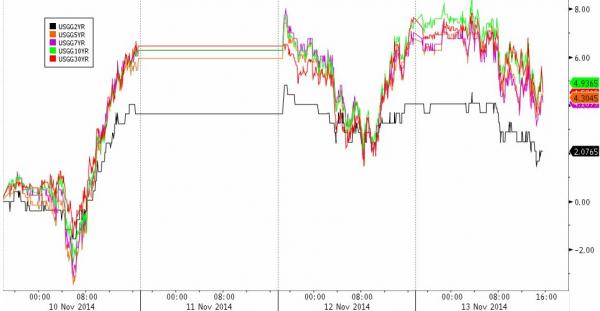 HY credit decoupled from stocks yesterday and remained there...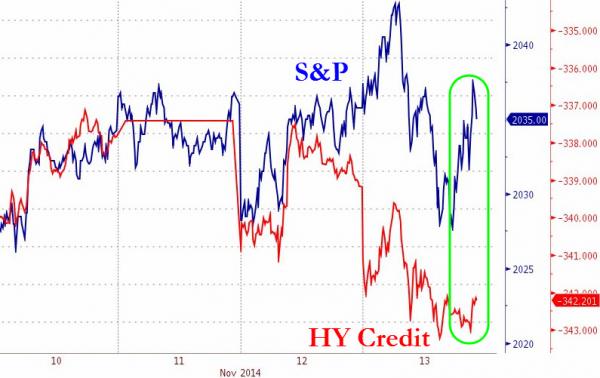 FX markets were relatively quiet today with EUR strength the main driver (as it seems EURUSD and TSYs are flip-flopping each day)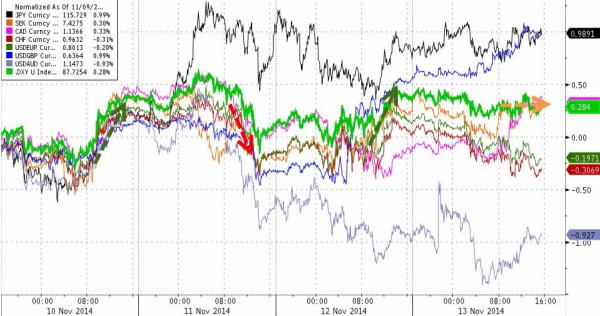 Gold and Silver were relatively quiet today as Copper and Oil got plugged...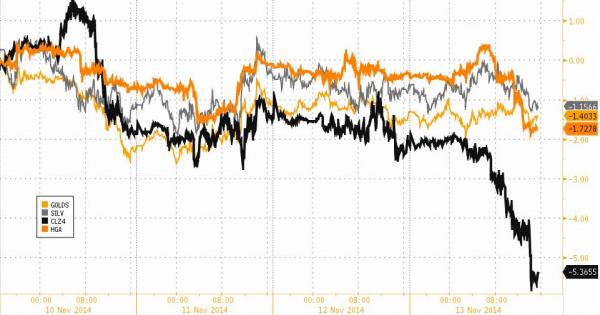 Close up, oil down from over $78 to just above $74...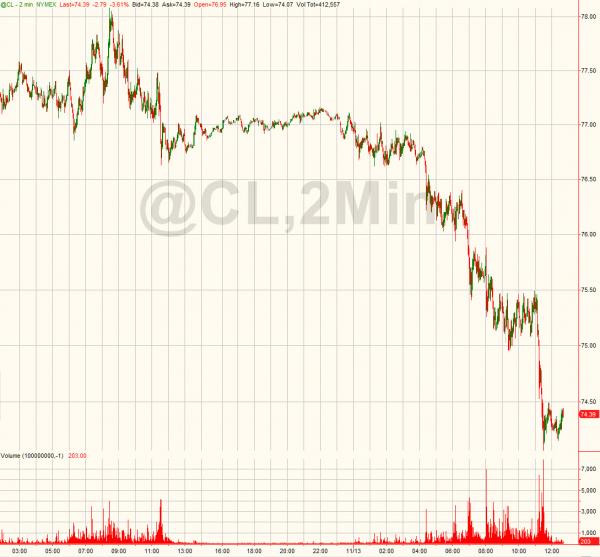 and Copper smashed from over $3.05 to $2.98...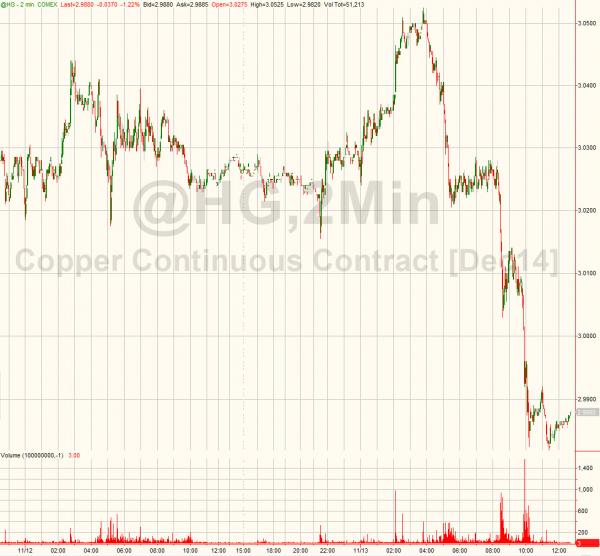 Charts: Bloomberg
Bonus Chart: It appears Airlines decided that once Bullard had spoken low oil prices can only mean good things for the global economic wealth of travelers... +45% in 3 weeks?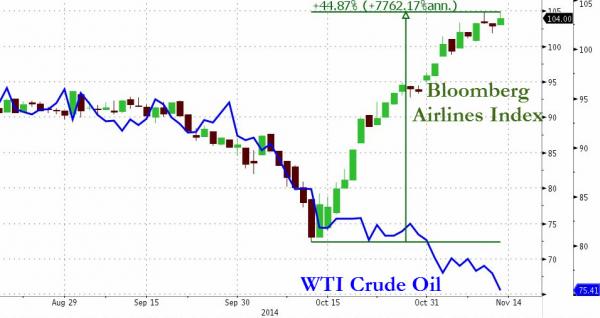 Bonus Bonus Chart: Just when you thought TWTR was fixed with Noto's dreams yesterday.. all the gains are eviscerated today...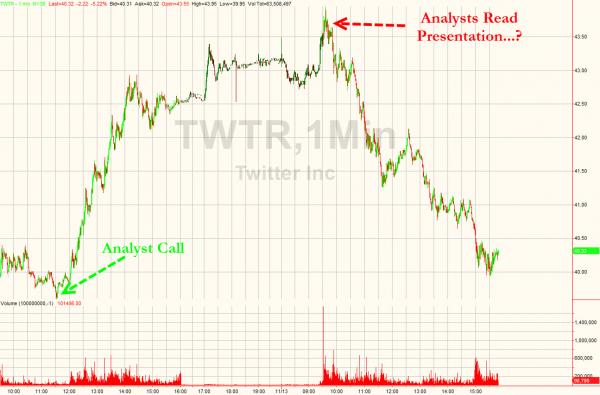 Bonus Bonus Bonus Chart: Today marked the 20th day in a row that the S&P has closed above its 5-day moving average. MKM's Jonathan Krinsky notes this length of streak has only happened 3 other times in the past 20 years.. and each time the 5DMA was broken, it was followed by a sell off (2/14/96 -2.3% in 2 weeks, 7/2198 -14.66% in 6 weeks, 12/3/96 -2.97% in 2 weeks)