Gogo Inc. GOGO is set to report second-quarter 2017 results on Aug 7. The company has beaten the Zack Consensus Estimate thrice and matched it once, delivering an average positive surprise of 14.74%.
Last quarter, the company reported a loss of 52 cents that came in line with the Zacks Consensus Estimate. However, revenues increased 17% year over year to $165 million and beat the Zacks Consensus Estimate of $160 million.
Notably, Gogo shares have gained 39.5%, substantially outperforming the industry's loss of 7.7%. The outperformance can be attributed to the high adoption rate of Gogo's 2Ku technology.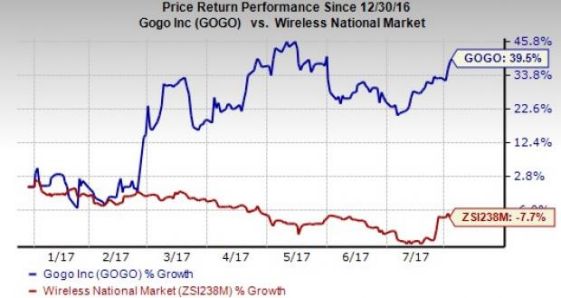 Let's see how things are shaping up for this announcement.
Factors at Play
Gogo enjoys a dominant position among in-flight Wi-Fi service providers especially in its North America Commercial Aviation business. The company's 2Ku service has been instrumental in driving top-line growth.
In Jun 2017...
More