Bitcoin $BTCUSD continues to rally an pushed into new highs during the 10/31 session. While, at these levels, we might want to be cautious in case of a sharp correction after the November Segwit2x Fork, which is projected to happen on November 16, when block #494,784 is mined. Meanwhile, because BTCUSD shows no sign of slowing, the buy-on-dip strategy continues to be prudent for the short-term ahead of Nov. 16.

Bitcoin (BTCUSD) 1H Chart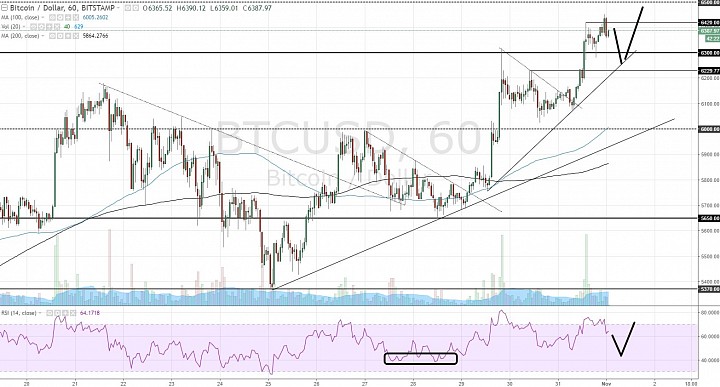 (click to enlarge)
Upside:
- BTCUSD rallied today on the back of news that the CME is planning to launch a bitcoin futures contract by years-end.
- If we see a correction without heavy news behind it, we should probably look for continuation of the uptrend towards at least 6500.
- If the correction is short-term, we should look for support around around 6250.
- Meanwhile, we should anticipate support when the 1H RSI gets to around 40.
- A break below 6200 might usher in a more significant bearish correction, perhaps towards 6000, with the 1H RSI likely falling back towards 30.