Radius Health, Inc. RDUS posted a loss of $1.31 per share in the third quarter of 2017, wider than the loss of $1.07 per share in the year-ago quarter and the Zacks Consensus Estimate loss of $1.24. The year-over-year increase in net loss was attributable to an increase in general and administrative expenses.
Radius Health, Inc. Price and EPS Surprise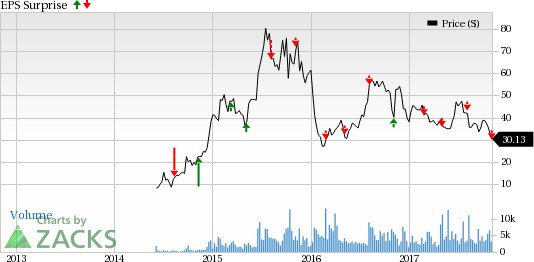 Radius Health, Inc. Price and EPS Surprise | Radius Health, Inc. Quote
Radius Health' share price had decreased 18.6% in the last six months compared with the industry's fall of 2.6%.
The company reported sales of Tymlos (abaloparatide) of $3.5 million while license revenues came in at $10 million. However, total revenues of 13.47 million missed the Zacks Consensus Estimate of $17.48 million.

Quarter in Detail
Research and development expenses for the reported quarter were $21 million, down 23.5% year over year due to a decrease in vasomotor project related spending, a $2.0 million decline in abaloparatide-SC project costs, and a $1.1 million fall in elacestrant (RAD1901) oncology project costs.
General and administrative expenses for the reported quarter jumped to $47.7 million from $19.2 million.
This increase was primarily the result of an increase of approximately $10.1 million in professional fees and support costs, including the costs associated with increasing headcount and preparing for the commercialization of Tymlos in the United States.
Higher compensation expenses, including stock-based compensation, due to an increase in headcount were also responsible for increased costs.
Pipeline Updates
The FDA approved Tymlos (abaloparatide) injection for the treatment of postmenopausal women with high risk osteoporosis for fracture.
The company is developing two formulations of abaloparatide-SC and abaloparatide-transdermal. In May, Radius Health announced positive top-line results from the completed 24-month ACTIVExtend clinical trial on Tymlos, which met all of primary and secondary endpoints. The company expects to submit a sNDA to the FDA in connection with the ACTIVExtend results by year end. The company also plans to initiate a clinical trial in men with osteoporosis, which, if successful, will form the basis of an sNDA seeking to expand the label to treat men with osteoporosis at high risk for fracture. The study is expected to be initiated in the first quarter of 2018.
Meanwhile, Radius Health' Marketing Authorisation Application for Eladynos (abaloparatide-SC) for the treatment of postmenopausal women with osteoporosis in Europe is under review by the Committee for Medicinal Products for Human Use (CHMP) of the European Medicines Agency. The company however suffered a setback when the CHMP issued a second Day-180 List of Outstanding Issues. Consequently, Radius Health is working with the CHMP to address these issues and the company expects a response prior to the end of 2017.
The company scheduled a meeting with the FDA in January 2018 to align on a regulatory pathway for a pivotal study for abaloparatide-TD.
Meanwhile, the company discussed the regulatory pathway for elacestrant for breast cancer. In the meeting, the FDA indicated that, depending on the study results, which must demonstrate an improvement over the available therapies, the planned single-arm phase 2 trial could be considered a pivotal study for accelerated approval. However, a confirmatory study must be ongoing at the time of the NDA submission. Radius Health will provide further study details when the phase 2 study is initiated (expected in early 2018). The FDA also granted Fast Track designation to elacestrant in October 2017. The candidate is also being evaluated at low doses as an estrogen receptor ligand for the potential relief of the frequency and severity of moderate to severe hot flashes in postmenopausal women with vasomotor symptoms. An update will be provided by 2017-end.
Our Take
The company's wider-than-expected loss in the third quarter was disappointing as expenses continue to increase with the commercialization of Tymlos. A potential label expansion of the drug will further boost performance.
Although the osteoporosis market in the United Sates has great potential as approximately 1.4 million postmenopausal women experience an osteoporotic fractur each year, Tymlos is expected to face significant competition from Eli Lilly &Co's LLY Forteo and Amgen Inc's AMGN Prolia. Moreover, the approved label carries a boxed warning of osteosarcoma (a malignant bone tumor). The company also a setback when the CHMP issued a second Day-180 List of Outstanding Issues.
Zacks Rank & Key Pick
Radius Health currently carries a Zacks Rank #3 (Hold).
A better-ranked stock in the healthcare sector is Exelixis, Inc. EXEL which currently carries a Zacks Rank #2 (Buy). You can see the complete list of today's Zacks #1 Rank stocks (Strong Buy) here.
Exelixis reported strong results for the third quarter of 2017. Earnings per share estimates inched up to 64 cents from 63 cents for 2018, over the last 60 days. The company has delivered positive earnings surprises in the trailing four quarters with an average beat of 572.9%.
Looking for Stocks with Skyrocketing Upside?

Zacks has just released a Special Report on the booming investment opportunities of legal marijuana.

Ignited by new referendums and legislation, this industry is expected to blast from an already robust $6.7 billion to $20.2 billion in 2021. Early investors stand to make a killing, but you have to be ready to act and know just where to look.
See the pot trades we're targeting>>
Want the latest recommendations from Zacks Investment Research? Today, you can download 7 Best Stocks for the Next 30 Days.
Click to get this free report
Eli Lilly and Company (LLY): Free Stock Analysis Report
Amgen Inc. (AMGN): Free Stock Analysis Report
Exelixis, Inc. (EXEL): Free Stock Analysis Report
Radius Health, Inc. (RDUS): Free Stock Analysis Report
To read this article on Zacks.com click here.
Zacks Investment Research