Summary
Twitter released Moments on Tuesday. This will help improve user growth.
Periscope released the ability to embed a button showing when you are live on your blog/website.
Periscope is 16th in the App Store. It remains a huge opportunity for Twitter.
Even though I plan on owning Twitter (NYSE:TWTR) stock for a few years, the timing of the Moments release was great as it took pressure off of the stock, at least temporarily. It's now up about 21% in the past 4 days which means I am back to even in my investment. I have written a few articles about how Twitter Moments would improve Twitter's outlook. This article is my reaction to its release.
For those of you who don't know, Moments is a new tab on Twitter that groups together tweets based on events/topics. The tweets mainly consist of pictures, gifs, vines, and videos, which are highly immersive. The organization of the tweets is meant to tell a story. The experience is geared towards the mobile user. I first used the product on my desktop and wasn't impressed. Mobile is better because stories cover the full screen, the tweets load quickly, the videos auto-play, and the content is easy to swipe through. It is the future way news stories will be consumed.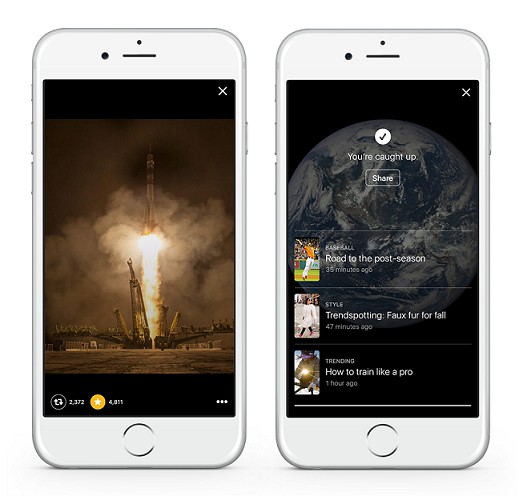 Prior to its release, investors and analysts had asked management whether Moments would do more to improve engagement or to improve new user growth. I think it will do more to onboard new users to the platform. Now new users don't have to spend time after creating an account trying to find great content. It will also increase the amount of time disenfranchised users spend on the app. I consider the about 200 million people who use Twitter monthly, but not daily to be disenfranchised, un-engaged users. Since checking the news is an activity that occurs every day this should make these users more likely to login more often.
In this area, Twitter is competing with Facebook (NASDAQ:FB). Twitter has a better product because it is immediate and curated through events/topics; Facebook has the advantage that users are already on its platform anyway, so they are more likely to see the news there. According to PC Magazine, in 2014, 44% of Twitter's 947 million accounts have never sent a tweet. Moments allows those users who don't tweet or even follow any accounts to have a good experience. Not forcing users to find accounts to follow is great because it can be time consuming to find influencers you care about. In this sense, Facebook has a...
More