China's exports posted a surprising drop in January, suggesting that factories were grappling with sluggish demand from abroad as well as at home, as the world's second-largest economy struggles to gain traction.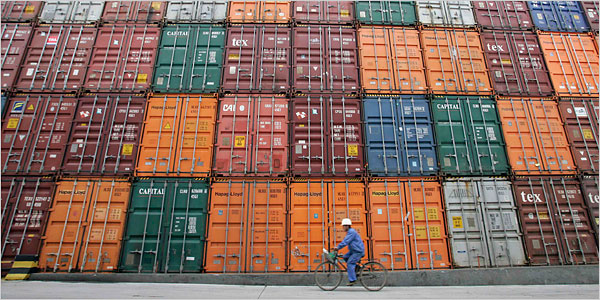 Imports also fell sharply during the month, partly due to weak demand from local industry as well as much lower oil and raw material prices, and giving the nation another big trade surplus for the month.
"China's manufacturing sector is under great pressure as both external and domestic demand remains sluggish," ANZ economists Li-Gang Liu and Hao Zhou said in a note to clients.
Exports fell 3.3% in January from a year earlier, data from the General Administration of Customs showed Sunday. This was a sharp deterioration from December's 9.7% rise and short of an expected 4.0% increase by economists polled by The Wall Street Journal.
The export weakness adds to the already disappointing domestic picture where a government survey of factory activity in January slipped to its weakest level since September 2012.
China's economy grew 7.4% last year, a pace that many countries would envy but was this nation's worst showing in 24 years. The government is widely expected to lower its growth target to about 7% this year as the global economy continues to make a slow recovery and domestic demand remains weak.
In January, exports to Southeast Asia and the U.S. were stronger, while shipments to the European Union, Japan and Hong Kong, a key transshipment market, were all weaker in dollar terms.
The yuan lost more than 2% against the dollar last year but the sharper rise of the U.S. unit against other currencies has generally carried the Chinese currency higher, increasing the prices of China's exports in other markets and making already-difficult market conditions even tougher.
In a statement accompanying the trade data, China's customs authorities said that a survey showed weaker confidence among exporters for the fourth consecutive month.
"This shows that exports will be facing downward pressure in the first quarter as well as the beginning of the second quarter," the statement said.
Economists cautioned, however, that year-ago data for January may have been inflated by over-invoicing by exporters who were trying to get around currency regulations and bring more foreign exchange onshore. Last year there were market expectations of a rise in the yuan's value against other currencies though sentiment has shifted somewhat since then. Exports climbed nearly 11% year over year in January last year, according to previously reported data.
Economists also said that comparisons could be distorted by the timing of the Lunar New Year holiday, which starts in mid-February this year and fell in late January last year. Factories often shut down ahead of the holiday as migrant workers go home for the most important festival of the year.
"I think we should look at January and February as a whole to get the real picture," said Larry Hu, economist at Macquarie Group, adding that a steady recovery in the U.S. economy this year could mean that China's exports will finish the year with about a 7% gain.
Meanwhile, imports in January slumped 19.9% from a year earlier, worsening from the 2.4% fall in December and falling far short of expectations of only a 3.3% decrease.
"The domestic industrial sector is definitely under pressure and I don't see much improvement this year," said Guo Jinsong, deputy general manager at Beijing Stone Automation Corp Ltd, which imports automation equipment for the steel, power, machinery and petrochemical sectors.
Heavy industry, particularly the steel sector, has seen widespread problems with overcapacity amid slumping demand.
China's trade surplus widened in January to $60 billion from $49.6 billion in December, and topped a forecast of a $48.4 billion surplus.
Analysts said that even if exports rebound in the months ahead, imports will remain weak. That will mean more big trade surpluses and could lead to renewed trade friction. Last year China had a record trade surplus of $382.46 billion, up from $259.75 billion in 2013.
-- Liyan Qi contributed to this article.