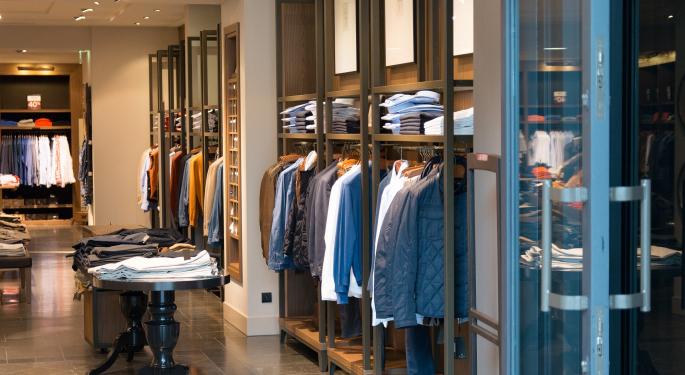 One of the consumer sector leaders on the session is Ralph Lauren Corp RL 9.8%, which surged more than 9 percent to $104.33.
The catalyst for the big move was the company's fiscal first-quarter earnings. Although Ralph Lauren reported a loss related to its restructuring plan, which was announced in June, adjusted earnings per share and sales came in ahead of Wall Street estimates. Going forward, the company plans on refocusing on its core brands - Ralph Lauren, Polo and Lauren - along with cutting costs.
Deeper Look
Management expects the restructuring to generate annual savings of between $180 million and $220 million through an 8 percent reduction in headcount and the closure of 50 company owned retail outlets. During the first-quarter, Ralph Lauren reported a net loss of $22 million, or $0.27 per share, versus a profit of $64 million or $0.73 per share, in last year's corresponding quarter.
On an adjusted basis, which is comparable to analysts' estimates, the company reported EPS of $1.06, down from the $1.09 Ralph Lauren reported a year ago. Nevertheless, this came in significantly above Wall Street consensus earnings estimates of $0.89 per share. Revenue declined 4.1 percent in the quarter to $1.55 billion versus expectations of $1.53 billion.
Same-store sales in the period, a key metric in the retail industry, fell 6 percent in the quarter. The contraction in same-store sales at Ralph Lauren comes on the heels of an announcement by Gap Inc. GPS 0.98% on Monday that sales at its Banana Republic had plunged 14 percent in July. In the most recent quarter, same-store sales plunged 9 percent at Banana Republic, 3 percent at Gap Global and stayed flat at Old Navy. Over the last 5 trading days, Gap shares have shed 5 percent in the wake of the disappointing comparable sales data.
Stay Cautious
It would appear that the company is facing similar headwinds as the Gap as evidenced by a year-over-year decline in revenue and the 6 percent drop in same-store sales. Even after Wednesday's big gain, Ralph Lauren is still down around 13 percent over the last 52 weeks, including a 6 percent loss in 2016.
A number of competitors have fared even worse.
Guess?, Inc. GES 1.05% has shed more than 33 percent over the last year, and is down 23 percent in 2016. Abercrombie & Fitch Co. ANF 0.24% shares have actually posted a small 3 percent gain over the past 52 weeks, but year-to-date the stock has plunged 22 percent as a result of the same headwinds facing competitors.
It does appear, however, that some optimism has swept across the retail sector on Wednesday in the wake of the big gain in Ralph Lauren.
Gap was last trading up around 1.5 percent, Guess had added better than 2 percent, and Abercrombie was up 1 percent. The other big gainer in the sector besides Ralph Lauren was Fossil Group Inc FOSL 0.78%, which surged 6 percent after the company released better-than-expected earnings on Tuesday after the closing bell.
© 2016 Benzinga.com. Benzinga does not provide investment advice. All rights reserved.